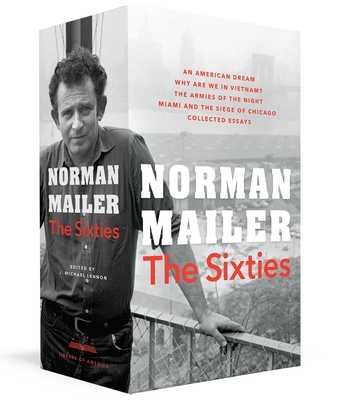 Norman Mailer
The Sixties: A Library of America Boxed Set
Boxed Set

* Individual store prices may vary.
Description
Fifty years after the turmoil of 1968, modern America's most turbulent decade comes to life though the collected writings of its greatest literary provocateur

No writer plunged more wholeheartedly into the chaotic energies of the 1960s than Norman Mailer, as he fearlessly revolutionized literary norms and genres to capture the political, social, and sexual explosions of an unsettled era. Here, in a deluxe two-volume Library of America boxed set, are two novels, two book-length masterpieces of new journalism, and thirty-three essays. 

Four Books of the 1960s presents An American Dream, Mailer's hallucinatory voyage through the dark night of an America awash in money, sex, and violence; Why Are We in Vietnam?, in which a motor-mouthed 18-year-old Texan on the eve of military service recounts with manic and obscene exuberance a grizzly bear hunt in Alaska that exposes the macho roots of the war; and the acclaimed "non-fiction novel" The Armies of the Night(winner of the Pulitzer Prize and National Book Award) and its follow-up Miami and the Siege of Chicago, on-the-scene/in-the-scene accounts of an antiwar march on the Pentagon and the party conventions of 1968. In these revolutionary books Mailer cast himself as a player in the drama he reports, bringing a sharp and merciless eye on the decade's political upheavals.

In Collected Essays of the 1960s acclaimed Mailer biographer J. Michael Lennon gathers for the first time all the essential essays from the classic collections The Presidential Papers (1963), Cannibals and Christians (1966), and Existential Errands (1972), each a fascinating window on one of the most extraordinary and tumultuous decades in the nation's history. Whether writing about Jackie Kennedy or Sonny Liston, the realist tradition in America or the internal culture wars of the Republican Party, the death of Ernest Hemingway or the battle against censorship, Mailer was always ready to intervene in what he called "the years of the plague."

LIBRARY OF AMERICA is an independent nonprofit cultural organization founded in 1979 to preserve our nation's literary heritage by publishing, and keeping permanently in print, America's best and most significant writing. The Library of America series includes more than 300 volumes to date, authoritative editions that average 1,000 pages in length, feature cloth covers, sewn bindings, and ribbon markers, and are printed on premium acid-free paper that will last for centuries.
Praise For Norman Mailer: The Sixties: A Library of America Boxed Set…
"Mailer is missed. . . . His gifts of observation and imagination [are] splendid armor for our own time." —David Denby, Harper's Magazine

"The fearlessly original Mailer is . . . more vital than ever. . . . If you really want to know What Happened, this collection of 50-year-old works has more to say than anything published in the past 12 months." –Ash Carter, Esquire 

"Mailer's catalogue of the schizophrenic hypocrisies in American life—our warring internal dualisms—that brought us to such a pass seem still entrenched in our political psyche. One can't help thinking that dissenting young people today, who might come upon this book as a historical curiosity or reading assignment, will be surprised to find a startlingly familiar nation at war with itself." —Robert J. Begiebing, The Mailer Review

"His biographer J. Michael Lennon and the LOA selected the contents brilliantly."
— Buffalo News 

"Norman Mailer is best binge-read as an orgy of big ideas, long, loping sentences and assertions that only a writer of titanic ego could make. Get ready to dive in...[this] two-volume anthology should keep you busy for days."
— Dallas News

 
Library of America, 9781598535570
Publication Date: March 27, 2018
About the Author
Norman Mailer was the author of more than three dozen works across a range of genres, including The Armies of the Night (1968), which won the Pulitzer Prize for non-fiction and the National Book Award, and The Executioner's Song (1979), which won the Pulitzer Prize for fiction.

J. Michael Lennon emeritus professor of English at Wilkes University, is Norman Mailer's editor and biographer, and president of the Mailer Society. His books include Norman Mailer: A Double Life(2013) and Selected Letters of Norman Mailer (2014).