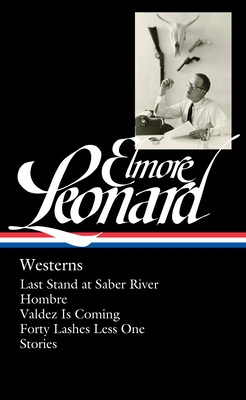 Elmore Leonard
Westerns (LOA #308): Last Stand at Saber River / Hombre / Valdez is Coming / Forty Lashes Less One / stories (Library of America Elmore Leonard Edition #4)
Hardcover

* Individual store prices may vary.
Description
Library of America presents a definitive collection of classic Westerns by America's master modern crime writer

One of the great storytellers of our time, Elmore Leonard perfected his craft writing Westerns, a genre he loved. These tales--some adapted into such outstanding films as Hombre, Valdez Is Coming, and 3:10 to Yuma--are unexcelled for their wiry tautness, sharp characterizations, and jolts of unexpected humor. For sheer stripped-down narrative tension Leonard never did anything better, and the fresh twists he finds in resolving the genre's classic confrontations reveal a master at work. Whether describing a Civil War veteran coming back to find his homestead stolen (Last Stand at Saber River), a man raised by Apaches treated with contempt by the white settlers who will ultimately depend on him for their survival (Hombre), a local constable, tricked into killing an innocent man, fighting back against the powerful man who duped him (Valdez Is Coming), or two convicts in a desert prison--one African American and the other half-Apache--plotting a near-impossible escape (Forty Lashes Less One), Leonard's westerns are tough, suspenseful, convincing, and beautifully spare in style.

LIBRARY OF AMERICA is an independent nonprofit cultural organization founded in 1979 to preserve our nation's literary heritage by publishing, and keeping permanently in print, America's best and most significant writing. The Library of America series includes more than 300 volumes to date, authoritative editions that average 1,000 pages in length, feature cloth covers, sewn bindings, and ribbon markers, and are printed on premium acid-free paper that will last for centuries.
Praise For Elmore Leonard: Westerns (LOA #308): Last Stand at Saber River / Hombre / Valdez is Coming / Forty Lashes Less One / stories (Library of America Elmore Leonard Edition #4)…
"For Westerns, a new volume in the Library of America, Terrence Rafferty has collected four of Leonard's finest novels from this period alongside a handful of stories, including "Three-Ten to Yuma" (1953), whose 15 pages are so thick with tension that they spawned a pair of full-length movies. . . . . The West was the proving ground where he honed his pared-back technique. . . You finish each of these perfectly told books in a single breathless sitting and you want only to flip back the pages and read them again." —Sam Sacks, Wall Street Journal

"His best Western work. . . . For Leonard, like his creation Raylan Givens, the West was serious business, a habit of mind, no matter where or when you were born. . . . Even if cowboy literature, with its creaking leather and ringing spurs, is not your usual thing, these novels and stories herald the crime-writer he became." —Nathan Ward, CrimeReads

"For the first half of his life Elmore Leonard mostly wrote Western novels and stories, almost all of them set in the Southwest. All could be called genre pieces — Leonard certainly didn't shrink from the label — and the best of them, including the novels Hombre and Valdez Is Coming and stories such as "3:10 to Yuma" are now collected in one handsome volume from the Library of America. What's gratifying is how well they hold up on paper even to those familiar with the movies made from them. There's terrific crackling dialogue at which even Hemingway would have nodded."
—The Dallas Morning News 

"Elmore Leonard: Westerns' celebrates Leonard's mastery of the genre.  This collection of four shoot-em-up novels and eight short stories beautifully demonstrates Leonard's gift for crisp dialogue, swift plotting, and flab-free storytelling." —Christian Science Monitor

"If we're serious about getting a firm grasp on Elmore Leonard's stupendous accomplishments we should by all means acquire the four handsome volumes of Leonard novels now gracing Library of America's list."  — Will Hoyt, University Bookman
Library of America, 9781598535624, 790pp.
Publication Date: April 24, 2018
About the Author
Terrence Rafferty is the author of The Thing Happens: Ten Years of Writing about the Movies (1993). His writing on books, film, and popular culture has appeared in many publications, including The New Yorker, The Atlantic, and The New York Times. He has taught comparative literature at Cornell, film criticism at Columbia, and writing and American studies at Princeton.