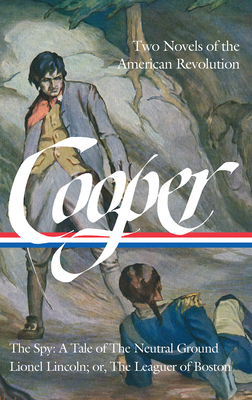 James Fenimore Cooper
Two Novels of the American Revolution (LOA #312): The Spy: A Tale of the Neutral Ground / Lionel Lincoln; or, The Leaguer of Boston (Library of America James Fenimore Cooper Edition #4)
Hardcover

* Individual store prices may vary.
Description
The American Revolution comes to vivid life in two dramatic tales of espionage, intrigue, and romance from the author of The Last of Mohicans.

With his second novel, The Spy:A Tale of the Neutral Ground, in 1821, James Cooper (the Fenimore would come later) found his true voice and what became his most enduring subject matter: the history of his young nation, born of the clash between Old World and New. Set largely in Westchester County--site of the real-life intrigues of Benedict Arnold and Major John Andre--The Spy traces the conflicting allegiances of rebels and loyalists, with the supposed loyalist spy Harvey Birch (actually in the service of George Washington) finding himself caught up in conflicts between friendship and duty as he moves between the two sides. Washington himself makes an incognito appearance as the mysterious "Mr. Harper." Cooper continued in the same vein with Lionel Lincoln; Or, The Leaguer of Boston (1825), a carefully researched panorama of the coming of the Revolution, complete with detailed depictions of the battles of Lexington and Concord and Bunker Hill. With the hero a native-born American serving in the British Army, issues of loyalty are again complex, and some American reviewers, not for the last time, found Cooper's politics a bit too ambiguous for comfort.

LIBRARY OF AMERICA is an independent nonprofit cultural organization founded in 1979 to preserve our nation's literary heritage by publishing, and keeping permanently in print, America's best and most significant writing. The Library of America series includes more than 300 volumes to date, authoritative editions that average 1,000 pages in length, feature cloth covers, sewn bindings, and ribbon markers, and are printed on premium acid-free paper that will last for centuries.
Library of America, 9781598535822, 874pp.
Publication Date: November 27, 2018
About the Author
James Fenimore Cooper (1789-1851) grew up at Otsego Hall, his father's manorial estate in upstate New York. Educated at Yale, he spent five years at sea, before beginning his literary career at thirty with Precaution (1820), a novel of manners. His second book, The Spy (1821), was an immediate success, and with The Pioneers (1823) he began his series of Leatherstocking Tales. By 1826 when The Last of the Mohicans appeared, his standing as a major novelist was established. After several years of writing nonfiction, he returned to fiction—and to Leatherstocking—with The Pathfinder (1840) and The Deerslayer (1841).

Alan Taylor is Thomas Jefferson Professor of History at the University of Virginia and the author of many acclaimed books on early America, including the Pulitzer P rize-winning William Cooper's Town: Power and Persuasion on the Early American Frontier and American Revolutions: A Continental History, 1750-1804.