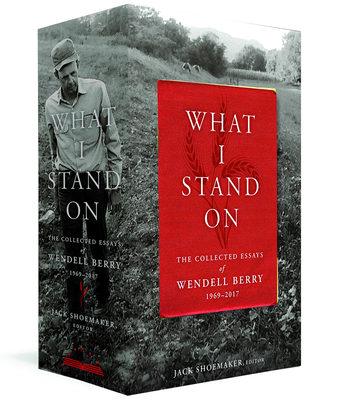 What I Stand On
The Collected Essays of Wendell Berry 1969-2017: (A Library of America Boxed Set)
Boxed Set

* Individual store prices may vary.
Description
The indispensable writings of our foremost voice on the current ecological and cultural crisis, more relevant now than ever, in a special two-volume edition prepared in consultation with the author.

Writing with elegance and clarity, Wendell Berry is a compassionate and compelling voice for our time of political and cultural distrust and division, whether expounding the joys and wisdom of nonindustrial agriculture, relishing the pleasure of eating food produced locally by people you know, or giving voice to a righteous contempt for hollow technological innovation. He is our most important writer on the cultural crisis posed by industrialization and mass consumerism, and the vital role of rural, sustainable farming in preserving the planet as well as our national character. Now, in celebration of Berry's extraordinary six-decade-long career, Library of America presents a two-volume boxed set edition of his nonfiction writings prepared in close consultation with the author. 

Here in full are such landmark books as The Unsettling of America and Life Is a Miracle, along with generous selections from more than a dozen other volumes, revealing as never before the evolution of Berry's thoughts and concerns as a farmer, neighbor, citizen, teacher, activist, and ecological philosopher. Throughout he demonstrates that our existence is always connected to the land, and that even in a modern global economy local farming is essential to the flourishing of our culture, to healthy living and stable communities, and indeed to the continuing survival of the human species. Berry's essays remain timely, even urgent today, and will resonate with anyone interested in our relationship to the natural world and especially with a younger, politically engaged generation invested in the future welfare of the planet.

LIBRARY OF AMERICA is an independent nonprofit cultural organization founded in 1979 to preserve our nation's literary heritage by publishing, and keeping permanently in print, America's best and most significant writing. The Library of America series includes more than 300 volumes to date, authoritative editions that average 1,000 pages in length, feature cloth covers, sewn bindings, and ribbon markers, and are printed on premium acid-free paper that will last for centuries.
Praise For What I Stand On: The Collected Essays of Wendell Berry 1969-2017: (A Library of America Boxed Set)…
"Decades before the Green New Deal made headlines, Wendell Berry sounded the alarm about America's environmental crisis. . . . More than 40 years later, those observations are still timely and pertinent. They are also persuasive, because they reflect a common-sense approach rooted in experience, rather than partisan views. . . . Essential reading for those who want to understand how we arrived at this point in time, and how we can begin to shift our standards, priorities, and habits."  —The Christian Science Monitor

"Seeing his arc in one place highlights both his complexity and his consistency. . . . Berry's essays serve as documents of the bewildering destruction in which our everyday lives involve us and as a testament to those qualities in people and traditions that resist the destruction." —The Nation 
Library of America, 9781598536102, 1702pp.
Publication Date: May 21, 2019
About the Author
Wendell Berry (b. 1934) is a novelist, poet, farmer, and environmental writer and activist. He has published over fifty books, including more than two dozen books of poetry, sixteen essay collections, and eight novels. In 2010 he was awarded the National Humanities Medal by President Obama, and in 2013 he was elected as a Fellow of the American Academy of Arts and Sciences. In 2016 he received the Ivan Sandrof Lifetime Achievement Award from the National Book Critics Circle. He has made his home with his wife, Tanya Berry, in Henry County, Kentucky, for the last fifty years.

Jack Shoemaker is the Editorial Director of Counterpoint Press, publishing the work of Gary Snyder, M.F.K. Fisher, Evan S. Connell, Robert Aitken, Anne Lamott, James Salter, Gina Berriault, and many others. He has worked with Wendell Berry for more than forty years.