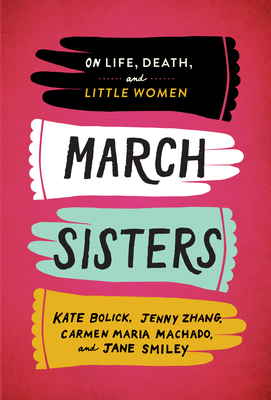 March Sisters
On Life, Death, and Little Women: A Library of America Special Publication
Hardcover

* Individual store prices may vary.
Description
For fans of Greta Gerwig's acclaimed film, four acclaimed authors offer personal reflections on their lifelong engagement with Louisa May Alcott's classic novel of girlhood and growing up.

For the 150th anniversary of the publication of Louisa May Alcott's Little Women, Kate Bolick, Jenny Zhang, Carmen Maria Machado, and Jane Smiley explore their strong lifelong personal engagement with Alcott's novel--what it has meant to them and why it still matters. Each takes as her subject one of the four March sisters, reflecting on their stories and what they have to teach us about life. Kate Bolick finds parallels in oldest sister Meg's brush with glamour at the Moffats' ball and her own complicated relationship with clothes. Jenny Zhang confesses to liking Jo least among the sisters when she first read the novel as a girl, uncomfortable in finding so much of herself in a character she feared was too unfeminine. Carmen Maria Machado writes about the real-life tragedy of Lizzie Alcott, the inspiration for third sister Beth, and the horror story that can result from not being the author of your own life's narrative. And Jane Smiley rehabilitates the reputation of youngest sister Amy, whom she sees as a modern feminist role model for those of us who are, well, not like the fiery Jo. These four voices come together to form a deep, funny, far-ranging meditation on the power of great literature to shape our lives.
Praise For March Sisters: On Life, Death, and Little Women: A Library of America Special Publication…
"In addition to sharing literary insights and personal histories, the authors also discuss the extent to which the Marches resembled and diverged from their real-life models: Alcott's own sisters. Any readers who have ever compared themselves to Meg, Jo, Beth, or Amy—or to all four—will enjoy seeing Alcott's much-loved classic through these alternate perspectives." —Publishers Weekly

"Reading the 19th-century novel through a contemporary lens, writers Kate Bolick, Jenny Zhang, Carmen Maria Machado and Jane Smiley have, in March Sisters: On Life, Death, and Little Women produced essays that are fresh, layered and insightful. . . . The March sisters march on in this stimulating, discerning and engaging book."  —Minneapolis Star-Tribune
 
"Jane Smiley's fresh, sharp take on the much-maligned Amy, is a tonic--and a revelation." —The Wall Street Journal
 


Library of America, 9781598536287, 196pp.
Publication Date: August 27, 2019
About the Author
KATE BOLICK is the author of Spinster: Making a Life of One's Own and is a contributing editor to The Atlantic.

JENNY ZHANG is a writer and poet based in New York City and the author of the story collection Sour Heart.

CARMEN MARIA MACHADO is the author of the story collection Her Body and Other Parties and a contributor to The New Yorker, Granta, Tin House, Guernica, and other publications.

JANE SMILEY is the author of many novels, works of nonfiction, and books for young adults, including A Thousand Acres and The Last Hundred Years trilogy, and is a member of the American Academy of Arts and Letters.

Kate Bolick lives in Brooklyn.

Jenny Zhang lives in New York City.

Carmen Maria Machado lives in Philadelphia.

Jane Smiley lives in northern California.
or
Not Currently Available for Direct Purchase