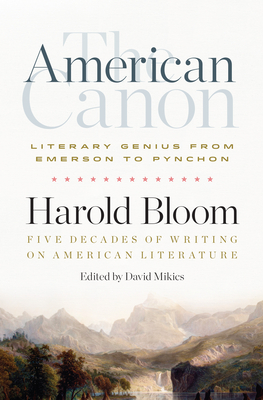 The American Canon
Literary Genius from Emerson to Pynchon
Hardcover

* Individual store prices may vary.
Description
Our foremost literary critic on our most essential writers, from Emerson and Whitman to Hurston and Ellison, from Faulkner and O'Connor to Ursula K. LeGuin and Philip Roth.

No critic has better understood the ways writers influence one another—how literary traditions are made—and no writer has helped readers understand this better, than Harold Bloom. Over the course of a remarkable sixty-year career, in such bestselling books as The Western Canon, Shakespeare: The Invention of the Human, and How to Read and Why, Bloom brought enormous insight and infectious enthusiasm to the great writers of the Western tradition, from Shakespeare and Cervantes to the British Romantics and the Russian masters. Now, for the first time, comes a collection of his brilliant writings about the American tradition, the ultimate guide to our nation's literature. 
 
Assembled with David Mikics (Slow Reading in a Hurried Age), this unprecedented collection gathers five decades' worth of Bloom's writings— much of it hard to find and long unavailable—including essays, occasional pieces, and introductions as well as excerpts from his books. It offers deep readings of 47 essential American writers, reflecting on the surprising ways they have influenced each other across more than two centuries. The story it tells, of American literature as a recurring artistic struggle for selfhood, speaks to the passion and power of the American spirit.  
 
All of the visionary American writers who have long preoccupied Bloom―Emerson and Whitman, Hawthorne and Melville, and Dickinson, Faulkner, Crane, Frost, Stevens, and Bishop―make their appearance in The American Canon, along with Hemingway, James, O'Connor, Ellison, Hurston, Le Guin, Ashbery and many others. Bloom's passion for these classic writers is contagious, and he reminds readers how they have shaped our sense of who we are, and how they can summon us to be better versions of ourselves. Bloom, Mikics writes, "is still our most inspirational critic, still the man who can enlighten us by telling us to read as if our lives depended on it: Because, he insists, they do."  

For readers who want to deepen their appreciation of American literature, there's no better place to start than The American Canon.
Praise For The American Canon: Literary Genius from Emerson to Pynchon…
"A deep consideration of significant American writers, from Emerson to Pynchon...An erudite tour of the American literary landscape from one of its most important observers." —Kirkus Reviews

"Ambitious, authoritative, and certainly arguable, Bloom's compendium is an achievement of immense use and interest to literature students and general readers alike." —Publishers Weekly
 
"He stands for a rare intellectual purity, being not only a kind of shaggy saint in his devotion to literature but also ... a gadfly, a doomsayer and a great teacher."
—Michael Dirda, The Wall Street Journal


"...an impressive and important look at what he sees as the core of American literature."
—PopMatters.com
Library of America, 9781598536409, 436pp.
Publication Date: October 15, 2019
About the Author
Harold Bloom (1930-2019) was Sterling Professor of the Humanities at Yale University and America's foremost literary critic. He was the author of more than thirty books, including the New York Times best sellers The Western Canon, Shakespeare: The Invention of the Human and The Book of J as well as A Visionary Company, The Anxiety of Influence, and Possessed by Memory: The Inward Light of Criticism. He was a MacArthur Prize Fellow, a member of the Academy of Arts and Letters, and the recipient of many awards and honorary degrees.

David Mikics is the Moores Distinguished Professor of English at the University of Houston. He is the editor of The Annotated Emerson and the author, most recently, of Bellow's People and Slow Reading in a Hurried Age. His reviews and articles have appeared in Tablet, the New Republic, and the New York Times.