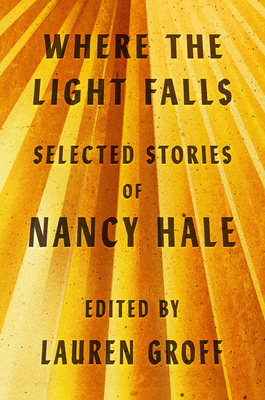 Where the Light Falls
Selected Stories of Nancy Hale
Hardcover

* Individual store prices may vary.
Description
Lauren Groff invites a new generation of readers to rediscover the haunting stories of a neglected mid-century master

A teenage girl in Connecticut driven to near delirium over her burgeoning sexuality. A twenty-something New Yorker transplanted to a small Virginia community who boldly befriends the town pariah. A New England widow in search of alcohol and excitement while babysitting her grandson. A Maryland socialite who has built a secret bomb shelter that becomes the center of her imaginative life. 

These are some of the characters who inhabit Nancy Hale's lush fiction. Haunting, vivid, and wonderfully subversive, Hale's stories typically concern women recognizable to all of us—sometimes fragile, possibly wicked, deceptively ordinary, navigating their way uncertainly through life. 

Nancy Hale was one of the most accomplished short story artists of her era, winner of ten O. Henry Awards and a frequent contributor to The New Yorker from the 1930s to the 1960s. But by the time of her death in 1988, this remarkable writer, so far ahead of her time in her depiction of complex women, was largely forgotten. Now Lauren Groff reintroduces this modern master with a selection of twenty-five of her best stories— brilliant short fiction that encompasses childhood and adolescence, marriage and motherhood, desire and infidelity, madness and memory. 

Where the Light Falls reveals Hale as a gifted stylist—a painter in light and shadow—and an acute observer of modern American life.
Praise For Where the Light Falls: Selected Stories of Nancy Hale…
"A great rediscovery. . . . Recalling writers such as Virginia Woolf and John Cheever, Hale's stories tackle an array of topics from unwanted pregnancy to the fear of nuclear weapons.." —JOHN POWERS, NPR's FRESH AIR

"If Nancy Hale can be forgotten, what hope is there for any of us." —MAUREEN CORRIGAN, THE WALL STREET JOURNAL

"Hale's elegant, polished prose style and impeccable handling of pace and structure can be deceptive, for on the inside her stories are raw, honest and often uncomfortable. Everyone, she suggests, has a secret. . . .In the stealthily hard-hitting narratives selected for Where the Light Falls, we find haunting, chilling, sometimes uplifting illustrations of Hale's ability to shine a light into obscure places." —Times Literary Supplement

"Hale is our next Lucia Berlin. . . . In these 25 arresting stories, [she] writes about complex women who live quiet lives of confusion and desperation, locating the hugeness of human feeling with the minutiae of domestic life. Perceptive and luscious, these stories are unmissable." —ESQUIRE ("The Best Fall Books of 2019")

"I had no idea about Nancy Hale. . . . [She] is simply a force, a steelier Scott Fitzgerald who wrote sex-haunted stories about the interior lives of upper-class women in such a calm, detached voice so sharp it's only later you understand how deep she drew her razor. . . . It is as though a new continent, teeming with strange life and color, has been discovered. We need to explore it." —PHILIP MARTIN, ARKANSAS DEMOCRAT GAZETTE

"In a just world, Nancy Hale would need no introduction. Her name would be soaked into the American book consciousness as thoroughly as those of her contemporaries F. Scott Fitzgerald and Thomas Wolfe. . . . . [Her stories are] often, like paintings, studies in emotion, and as with paintings the intensity of feeling can sometimes sneak up on you, hours or even days later." —GARDEN & GUN

"Every sentence pulses with energy and specificity. . . . Hale's stories are rich, delightful, and often strange. And they nearly always end abruptly, as if on an inhale, preparing you for whatever comes next." —THE PARIS REVIEW (Staff Pick)

"A stunning, crystalline collection. . . . Hale writes with a crisp realism that is almost deceptive in its simplicity; the power of her prose sneaks up on you." —VOGUE ("The 17 Books We Can't Wait to Read This Fall")

"Skillfully introduced and selected by Lauren Groff, . . . Hale's insightful, artfully constructed stories remain irresistible—and relevant—today." —PUBLISHERS WEEKLY (Starred Review)
 
"A welcome reintroduction. . . . Hale's prose is elegant without calling attention to itself, like the well-cut dresses one is sure her female characters wear. . . . Classic examples of the art of short fiction, capturing the variety of human experience with sophisticated economy." —KIRKUS REVIEWS (Starred Review)

"Nancy Hale's touch was so precise and delicate that you might think you're reading undiscovered Edith Wharton stories. Seen anew in Lauren Groff's excellent selection, these stories are very much of-the-moment. What an exhilarating book!" —ANN BEATTIE, author of A Wonderful Stroke of Luck 

 "It is a joy to read Nancy Hale this way—in a sharp collected volume that shows the best of this masterful writer's stories and range. Hale's eye for detail imbues her depictions of everyday life with quiet devastation and complex humanity. Hale belongs in the canon of short fiction, which makes this work an overdue treasure." —MEGAN MAYHEW BERGMAN, author of Almost Famous Women 

"It's crazy that Nancy Hale—one of the most decorated short story writers of her time—is largely unknown to contemporary readers. This collection will remedy that." —DAN CHAON, author of Ill Will 

"A towering talent is returned to the spotlight. Treat yourself to this collection of Hale's best short stories about ordinary women coping with the strains of their demanding lives." —JESSICA DUKES, Celadon Books
Library of America, 9781598536423, 373pp.
Publication Date: September 24, 2019
About the Author
NANCY HALE (1908–1988), born in Boston to a family whose forebearers include Revolutionary War hero Nathan Hale and Harriet Beecher Stowe, was the author of eight novels, including the best-selling The Prodigal Women, four short story collections, two memoirs, two plays, children's stories, and a biography of Mary Cassatt. With the writer Elizabeth Coles Langhorne, she was a cofounder of the Virginia Center for the Creative Arts. 

LAUREN GROFF is the New York Times–best-selling author of three novels, The Monsters of Templeton, Arcadia, and Fates and Furies, and two short story collections, Delicate Edible Birds and Florida.
or
Not Currently Available for Direct Purchase