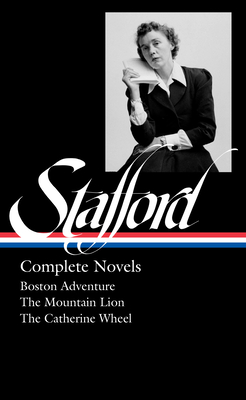 Jean Stafford (Hardcover)
Complete Novels (LOA #324): Boston Adventure / The Mountain Lion / The Catherine Wheel
Library of America, 9781598536447, 904pp.
Publication Date: November 19, 2019
* Individual store prices may vary.
Description
For the first time in a deluxe hardcover edition, three eerily powerful novels by a midcentury master of social satire and psychological portraiture

Jean Stafford (1915-1979) made a bold entrance onto the American literary scene in 1944 when her first novel, Boston Adventure became a surprise best seller. She followed up this initial success with two more acclaimed novels, The Mountain Lion (1944) and The Catherine Wheel (1952), and became a prolific writer of short stories for The New Yorker and other prominent magazines. (Her Collected Stories won the Pulitzer Prize for Fiction in 1970.) In later years serious health problems made it increasingly difficult for her to write, and after her death she became a somewhat overlooked figure in 20th-century American literature. Complete Novels allows readers to rediscover "a figure of genuine consequence in American literature" (Jonathan Yardley, Washington Post) at the height of her powers.

Boston Adventure follows Sonia Marburg, the daughter of immigrant parents, as she seeks to escape her impoverished childhood by becoming the secretary-companion of the socially prominent Lucy Pride. The novel won praise for its perceptive satire of upper-class Boston society, while Stafford's portrayal of the inner life of her protagonist drew comparisons to Henry James and Marcel Proust. In The Mountain Lion Stafford drew on her childhood memories of southern California and Colorado to tell the story of Molly Fawcett, her brother Ralph, and their shared journey through the treacherous passage from childhood into adolescence. Set in a country house in Maine, The Catherine Wheel traces the tragic relationship between a lonely boy and his beloved aunt during a summer in which each of them secretly seeks revenge against the people who have betrayed them.
About the Author
Jean Stafford (1915-1979) grew up in southern California and Colorado. After graduating from the University of Colorado in 1936, she studied in Heidelberg for a year, then moved to the Northeast and began to write. Stafford would publish three novels, Boston Adventure (1944), The Mountain Lion (1947), The Catherine Wheel (1952), more than forty short stories (The Collected Stories of Jean Stafford won the Pulitzer Prize for Fiction in 1970), and A Mother in History (1966), a journalistic portrait of Marguerite Oswald, mother of Lee Harvey Oswald.

Kathryn Davis is the Hurst Writer in Residence at Washington University and the author of eight novels: Labrador, The Girl Who Trod on a Loaf , Hell: A Novel, The Walking Tour, Versailles, The Thin Place, Duplex, and The Silk Road. She has received the Janet Heidinger Kafka Prize, the Morton Dauwen Zabel Award and the Katherine Anne Porter Award from the American Academy of Arts and Letters, and the Lannan Foundation Literary Award. She lives in St. Louis and Vermont.
Praise For Jean Stafford: Complete Novels (LOA #324): Boston Adventure / The Mountain Lion / The Catherine Wheel…
"A revelation. . . . Boston Adventure is surely one of the most haunting depictions of female isolation in fiction, rivaling in its unrelenting sense of imprisonment Charlotte Brontë's Villette. . . . [The Catherine Wheel] vividly evokes the despair of an adolescent engulfed by loneliness. . . . The Mountain Lion is rightly hailed as Stafford's greatest novel, . . . a grim fable, of sorts, about the pressure to leave certain childish things and people behind in order to achieve adulthood." –Maureen Corrigan, The Wall Street Journal