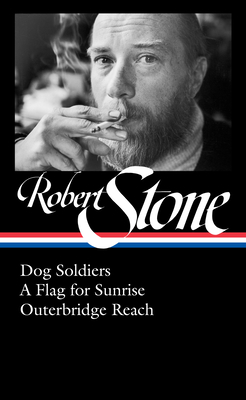 Robert Stone
Dog Soldiers, A Flag for Sunrise, Outerbridge Reach (LOA #328)
Hardcover

* Individual store prices may vary.
Description
For the first time in one volume, three modern masterworks from the National Book Award-winning writer who explored the dark undercurrents of the American Century

Blurring the boundaries between literary fiction and political and military thrillers, Robert Stone was one of the most dynamic and critically acclaimed American writers of the last fifty years. Here, released in conjunction with Madison Smartt Bell's major new biography, is a deluxe edition gathering Stone's three finest novels, modern masterpieces about the dark underside of the American century. Stone's own experiences in Saigon inspired Dog Soldiers (1974), in which an ill-fated scheme to smuggle three kilos of heroin from South Vietnam to California comes to the attention of a corrupt drug enforcement official, setting in motion a lethal chase across a nightmarish landscape populated by poseurs, hustlers, psychopathic criminals, and failed gurus. Winner of the National Book Award, Dog Soldiers ranks with the work of Michael Herr and Tim O'Brien as a psychological reckoning with how Vietnam changed America. A Flag for Sunrise (1981) depicts of a leftist revolution in the fictious Central American country of Tecan and its impact on three North Americans: Justin Feeney, an idealistic nun; Frank Holliwell, an anthropologist who does favors for the CIA; and Pablo Tabor, an enraged Coast Guard deserter. Through their fates Stone explores the search for moral order in a terrifying universe beset by fear and evil. In Outerbridge Reach (1992) Owen Browne, a Navy veteran of Vietnam turned boat salesman, seeks to test his courage amid the materialism, corruption, and superficiality of 1980s America by entering a solo around-the-world yacht race. Alone in the South Atlantic, Browne discovers his capacity for deception and enlightenment in a sea tale worthy of Melville and Conrad.
Praise For Robert Stone: Dog Soldiers, A Flag for Sunrise, Outerbridge Reach (LOA #328)…
"A look back at the writer and his work, especially his earliest novels, turns out to be well timed. In books that deserve to endure, Stone anticipates the present in surprising, unsettling ways. . . . Stone's America is a dark place, but its failures are commensurate with the scale of its aspirations. His protagonists—they can be roughly divided into seekers and ironists, each representing aspects of their creator—are haunted by a vision of life more abundant, a sense of possibility that's betrayed by their own weakness and the destabilizing undercurrents of history. His prose, with its potent mix of hard-boiled irony, romantic excess, and violent dissolution, can render the mood of a whole period instantly indelible." —George Packer, The Atlantic

"We can be even more grateful for the new Library of America volume, . . . which puts between two handsome covers three of Stone's finest novels. . . . Its 1,000 pages contain some of the most handsomely composed, brilliantly perceptive, and painfully honest fiction produced by any postwar American writer. . . . [I]ts contents will engage you, then provoke you, and then break your fucking heart." —Rob Latham, Los Angeles Review of Books

"A trifecta of thoroughbreds. . . . The Library of America volume showcases Stone at his fearsome peak . . . ordered, propulsive, hyperrealistic yet phantasmagoric with great bursts of rabid thinking."  
—Joy Williams, Bookforum

"Intricately plotted and often suspenseful, [Stone's] fiction tends to run a low-grade fever generated by ambition, racism, fear, drugs, and alcohol, conveyed in a tone that has the odd property of being both frightening and disconcertingly funny. In this particular mode, Stone was unsurpassed, and at least two of his novels, A Flag for Sunrise and Outerbridge Reach, . . . have a political scope, eloquence, and cultural knowingness that qualifies them as great novels."  
—Charles Baxter, Harper's Magazine

"Robert Stone belonged to the remarkable cohort of American fiction writers born in the 1930s. . . . [This] superbly produced Library of America volume gathering three of [his] novels, . . . makes a case for a full-fledged revival. There can be no doubt that such an effort is timely." 
—The American Conservative

 
Library of America, 9781598536546, 1216pp.
Publication Date: March 3, 2020
About the Author
Robert Stone (1937-2015) was born in Brooklyn and grew up in New York City. After being expelled from high school Stone enlisted in the U.S. Navy, where he served as a journalist. In the early 1960s he studied writing as a Stegner Fellow at Stanford and became friends with Ken Kesey. His first novel, A Hall of Mirrors, was published in 1967; his second, Dog Soldiers (1974), won the National Book Award. Stone eventually published eight novels, two collections of short stories, and a memoir.

Madison Smartt Bell is professor of English at Goucher College and the author of fifteen novels, three collections of short stories, and five works of nonfiction. He is the author of Child of Light: A Biography of Robert Stone (working title), which will be published by Doubleday in March/April 2020, and the editor of The Eye You See With: Selected Nonfiction of Robert Stone (working title), also scheduled by Houghton Mifflin for March/April 2020.