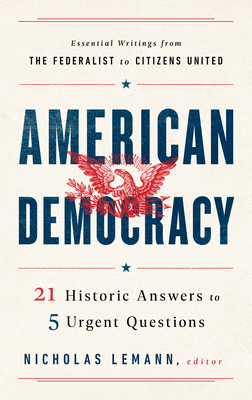 American Democracy
21 Historic Answers to 5 Urgent Questions
Hardcover

* Individual store prices may vary.
Description
From The Federalist to Citizens United, bestselling author Nicholas Lemann presents key writings on five crucial questions confronting American democracy today

Amid the frenzied overload of 24-hour cable news and incessant social media, at a time when many of us fear for the future of our democracy, it is becoming harder and harder to think clearly about politics. American Democracy: 21 Historic Answers to 5 Urgent Questions provides an alternative for those who want to step back and look to the past for inspiration and guidance. Edited with perceptive and provocative commentary by bestselling historian and journalist Nicholas Lemann (The Promised Land, Transaction Man), the book presents key writings from the American past that speak to five contemporary flashpoints in our political landscape: race, gender, immigration, and citizenship; opportunity and inequality; the purpose and powers of the federal government; money, special privilege, and corruption; and protest and civil disobedience. Some of the selections are well-known--George Washington's letter to the Hebrew Congregation at Newport, Frederick Douglass's "What to the Slave is the 4th of July," Martin Luther King Jr.'s letter from Birmingham Jail--while others will be new to many readers--Horace Mann argument for public schools as a means of fighting inequality, Jane Addams's perceptive analysis of gender and social class in charity work, Randolph Bourne envisioning a "Trans-National America." American Democracy presents a remarkable range of insightful and eloquent American political writing, while serving as an invaluable resource for concerned citizens who wish to become better-informed participants in the ongoing drama of our democracy.
Praise For American Democracy: 21 Historic Answers to 5 Urgent Questions…
"This illuminating and well-conceived anthology offers essential insights into how debates over the nature and practice of American democracy have evolved." —Publishers Weekly
Library of America, 9781598536621, 300pp.
Publication Date: October 6, 2020
About the Author
Nicholas Lemann is Joseph Pulitzer II and Edith Pulitzer Moore Professor and Dean Emeritus of the Graduate School of Journalism at Columbia University and the author of The Promised Land: The Great Black Migration and How It Changed America (1991), The Big Test: The Secret History of the American Meritocracy (1999), Redemption: The Last Battle of the Civil War (2006), and Transaction Man: The Rise of the Deal and the Decline of the American Dream (2019). He has been a writer and editor at Washington Monthly, Texas Monthly, and the Washington Post, a national correspondent for The Atlantic, and, since 1999, a staff writer for The New Yorker.