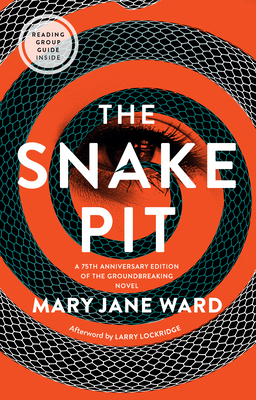 The Snake Pit
Paperback

* Individual store prices may vary.
Description
A 75th anniversary edition of the landmark novel that forever changed the way we think about mental illness and its treatment

Suffering a breakdown in 1941, thirty-five-year-old novelist Mary Jane Ward was diagnosed, or perhaps misdiagnosed, with schizophrenia and committed to a psychiatric hospital in upstate New York. From that horrific experience came this gripping story.

Inspiration for the 1948 film starring Olivia de Havilland, The Snake Pit sparked important investigative journalism and state legislation to reform the care and treatment of people with mental illness. It belongs in the company of Sylvia Plath's The Bell Jar and Ken Kesey's One Flew Over the Cuckoo's Nest—two books it influenced.

This authoritative Library of America edition includes an afterword by Ward's cousin, Larry Lockridge, and a Reading Group Guide featuring additional material about Ward and the real-life roots of the novel.
Praise For The Snake Pit…
"One of the first novels about the American mental health system turns out to be among the freshest, and most darkly funny, examples of a genre that is often grimly earnest if well-meaning. Published by the Library of America to honor its 75th anniversary, Ward's novel was a bestseller, the basis of a popular movie, and the impetus behind change to state mental institutions. The semiautobiographical novel is told from the constantly changing and unreliable point of view of sardonic novelist Virginia Cunningham, who, as the story opens, is puzzled to discover herself in what seems at first to be a public park but which she gradually identifies as a mental institution, in which she has been confined for an indeterminate amount of time. Virginia, whose primary tie to the outside world is her faithful husband, Robert, and who is beset by lapses in her memory, bounces around through the wards of Juniper Hill, a severely understaffed state institution whose motto, she believes, is "Keep Them Quiet." For a while, she makes it up to Ward One, the closest to release. Other times, she comes to consciousness in wards where she is being drugged, treated with ice baths, or given shock treatment. She alludes to sessions with a psychoanalyst, but her main focus is on the nurses and patients with whom she interacts and on her own desperate attempts to make sense of her situation, or to fake her way out of it. Virginia, deeply confused and occasionally violent, is also sharply observant, noting that the medication given to the patients makes them smell like "badly tended lions" and observing that the eyes of one fearsome nurse "had a look you do not mind seeing in the eyes of your cat." The novel, admirably, doesn't oversimplify Virginia's mental state or provide an explanation for it but reveals it in all its complexity. An uncompromising look inside a troubled mind and a troubled institution." —Kirkus Reviews (starred review)
Library of America, 9781598536805, 368pp.
Publication Date: June 1, 2021
About the Author
Mary Jane Ward (1905-1981) was the author of nine novels, including her three autobiographical novels that concern mental illness and its treatment--The Snake Pit (1946), Counterclockwise (1969), and The Other Caroline (1970). Her papers are held at Boston University's Howard Gotlieb Archival Research Center.

Larry Lockridge is Professor Emeritus of English at New York University, and has held Danforth, Woodrow Wilson, and Guggenheim fellowships. He is the author of several books, including a biography of his father, Shade of the Raintree: The Life and Death of Ross Lockridge, Jr., Author of Raintree County.