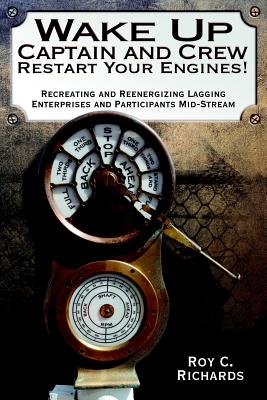 Wake Up Captain and Crew Restart Your Engines! (Paperback)
Recreating and Reenergizing Lagging Enterprises and Participants Mid-Stream
Dog Ear Publishing, 9781598582833, 268pp.
Publication Date: March 8, 2007
* Individual store prices may vary.
Description
Renewal for Men and Women In Their Thirties, Forties, Fifties and Beyond Do you lead or participate in a collective enterprise which has grown old before its time? Lagging corporations, family businesses, governmental entities and private foundations dampen the spirits and drain energy from managers, employees and volunteers top to bottom. The author's second book, Wake Up Captain and Crew-Restart Your Engines , addresses leaders, formal and informal, intent upon revitalizing their stagnant or declining organizations from within. The author begins from the premise that sagging enterprises are best transformed by reigniting the creative energies and collective spirit of those presently on board. No matter how outstanding its products or services, any organization's primary asset is the combined talent, knowledge and imagination of on-board personnel. Rather than attempting to tear down and rebuild, today's outstanding leaders are able to inspire colleagues, subordinates or fellow volunteers to anticipate and adapt to a radically different, continually evolving positive culture of innovation. The author presents a five-fold formula designed to restore positive momentum to lagging organizations large and small: 1) early diagnosis and treatment of the symptoms of decline, 2) identification and evaluation of collective strengths, traditions and resources upon which to build, 3) inspirational exercises intended to revitalize the personal lives and careers of on-board participants, 4) merging of individual and collective objectives into fully engaged circles of cooperation and 5) empowerment and reward for every dedicated and capable contributor. The author Roy Richards is a motivational speaker, Business consultant, personal coach and co-founder of the Middle Age Renewal Training Institute (MART.) His stated mission is to revitalize lagging businesses and not-for-profit enterprises across North America at the same time reenergizing on-board leaders, employees and voulenteers. A Phi Beta Kappa graduate of Carleton College, Northfield, Minnesota with a Masters in Business Administration from the University of Chicago, the author writes from the unique perspective of a thirty-six year business career, including seventeen years climbing the corporate ladder with four major U. S. corporations followed by nineteen years as a successful small business owner and entrepreneur.