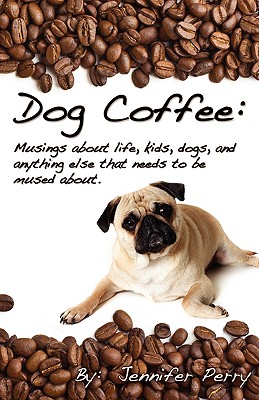 Dog Coffee
Paperback

* Individual store prices may vary.
Description
Dog Coffee is a collection of musings about life, kids, dogs, and anything else that needs to be mused about. In these pages you will find exploding fruit, rogue hormones, and flatulent dogs who know more than they're saying - or perhaps less. I was working at a bookstore which also has a cafe, and I would go over to get coffee and chat with the manager, Andy W.( He has a last name but I can't divulge it because it gives Spellcheck a seizure.) One of the more popular coffees was Organic Blue Heeler, which is also a dog breed. In fact, Andy himself owned such a creature. So I started calling that blend the dog coffee, and I always thought it would make a good name for something. But no one took me up on it, leaving it available to me as a title for this, my first book. Jennifer Perry is an actual person who grew up in Kalamazoo, Michigan and attended Lawrence University in Appleton, Wisconsin, graduating with a degree in Linguistics and a husband, Mills. After graduation, Jennifer and Mills remained in Appleton, even in the winter. Their family currently includes two grown sons, Matt and Andrew, and a black-and-white cocker spaniel, Dexter, who doesn't know he's been neutered. Jennifer has worked in bookstores and other retail establishments, most recently Basic Books and Cafe in Oshkosh, Wis. During a good part of the 80's and 90's she was a stay-at-home mom for Matt and Andrew (this was pre-Dexter.) She coached baseball, wrote dramas for church, and solved the world's problems over doughnuts and coffee with her friend Micky. In 2004 she began writing as a Community Columnist for the Appleton Post-Crescent, where many of these essays first appeared.
Dog Ear Publishing, 9781598588361, 108pp.
Publication Date: November 26, 2008
or
Not Currently Available for Direct Purchase