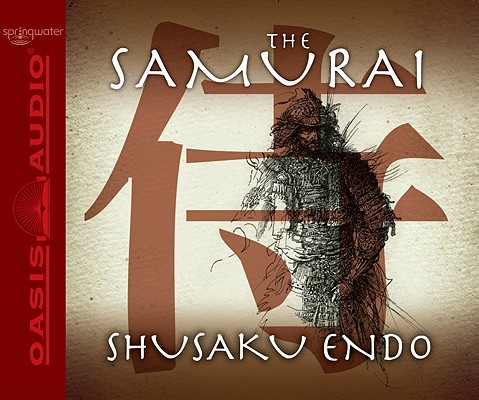 The Samurai (CD-Audio)
Oasis Audio, 9781598597431
Publication Date: June 15, 2010
Other Editions of This Title:
Paperback (8/28/2018)
Paperback (4/17/1997)
MP3 CD (8/23/2016)
Paperback (3/24/2011)
* Individual store prices may vary.
Description
 In the 17th century, Hasekura and three other low-level samurai are sent to seek trade with Nueva España (today's Mexico). Accompanied by Father Velasco, a Franciscan missionary and interpreter, they pursue their mission from Nueva España to Spain. Along the way, they endure not only the hardships of the journey but Velasco's incessant proselytizing. The ambitious priest, who believes that their conversion will gain him the appointment as Bishop of Japan, convinces them that they will succeed only if they convert to Christianity, and reluctantly they agree. Failure, however, is their only reward. After years of wandering, they return to Japan, where they face shame and persecution. Basing his novel on the actual voyage of Hasekura, Shusaku Endo masterfully evokes the struggle between the Western individual and the Eastern collective identity and in so doing plumbs the depths of honor, faith, and human endurance. The result is an expansive audio book of astonishing power and insight.
About the Author
Shūsaku Endō (遠藤 周作 Endō Shūsaku) was a renowned 20th century Japanese author who wrote from the unusual perspective of being bothJ apanese and Catholic. (The population of Christians in Japan is less than 1%.) Together with Junnosuke Yoshiyuki, Shotaro Yasuoka, Junzo Shono, Hiroyuki Agawa, Ayako Sono, and Shumon Miura, Endo is categorized as one of the "Third Generation," the third major group of writers who appeared after the Second World War. His books reflect many of his childhood experiences. These include the stigma of being an outsider, the experience of being a foreigner, the life of a hospital patient, and the struggle with tuberculosis. However, his books mainly deal with the moral fabric of life. His Catholic faith can be seen at some level in all of his books, and it is often a central feature.
or
Not Currently Available for Direct Purchase