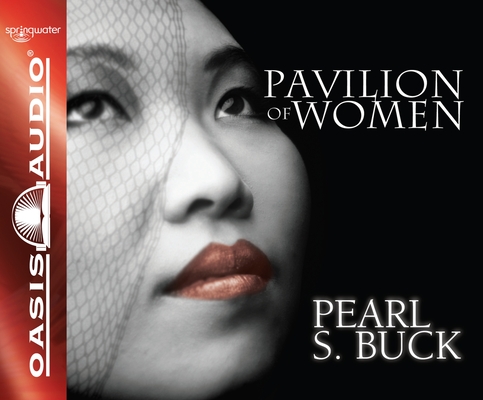 Pavilion of Women (CD-Audio)
Oasis Audio, 9781598597707
Publication Date: October 1, 2010
Other Editions of This Title:
Paperback (5/1/1995)
* Individual store prices may vary.
Description
On her fortieth birthday, Madame Wu carries out a decision she has been planning for a long time: she tells her husband that after twenty-four years their physical life together is now over and she wishes him to take a second wife. The House of Wu, one of the oldest and most revered in China, is thrown into an uproar by her decision, but Madame Wu will not be dissuaded and arranges for a young country girl to come take her place in bed. Elegant and detached, Madame Wu orchestrates this change as she manages everything in the extended household of more than sixty relatives and servants. Alone in her own quarters, she relishes her freedom and reads books she has never been allowed to touch. When her son begins English lessons, she listens, and is soon learning from the "foreigner," a free-thinking priest named Brother Andre, who will change her life. Pavilion of Women is a thought-provoking combination of Old China, unorthodox Christianity, and liberation, written by Pearl S. Buck, a Nobel Prize winner born and raised in China. Few stories raise so many questions about the nature and roles of men and women, about self-discipline and happiness. At the center is the amazing Madame Wu -brilliant, beautiful, full of contradictions and authority.
About the Author
Pearl S. Buck recreated the lives of ordinary Chinese people in The Good Earth, an overnight worldwide best-seller in 1932, later a blockbuster movie. Buck went on to become the first American woman to win the Nobel Prize for Literature. Long before anyone else, she foresaw China's future as a superpower, and she recognized the crucial importance for both countries of China's building a relationship with the United States. As a teenager she had witnessed the first stirrings of Chinese revolution, and as a young woman she narrowly escaped being killed in the deadly struggle between Chinese Nationalists and the newly formed Communist Party.
Praise For Pavilion of Women…
"Buck's epic recounts women's plight in late 1930s China, rapidly changing under Western influence and threats from native communists and Japanese invaders. On her 40th birthday, Madam Wu, the matriarch of a wealthy, tradition-bound Chinese family, having decided to retire from her bedroom duties, buys her husband a concubine and sets out to divest herself of all the familial responsibilities that have been consuming her life. Her quest to live for herself is aided and complicated by her youngest son's tutor, Brother Andre, a progressive Western priest. Narrating simply in gentle, dignified, and understated tones, Adam Verner gives this masterful book the perfect touch. On the surface, his delivery is plain, devoid of flourishes, while worlds of underlying meaning emerge through subtle means." 
Y.R. - Winner of AudioFile Earphones Award - © AudioFile Portland, Maine

or
Not Currently Available for Direct Purchase