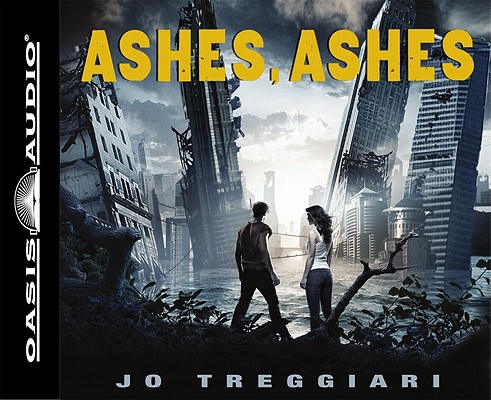 Ashes, Ashes (CD-Audio)
Oasis Audio, 9781598599398
Publication Date: June 1, 2011
Other Editions of This Title:
Digital Audiobook (5/31/2011)
Paperback (1/1/2013)
Hardcover (6/1/2011)
CD-Audio (6/1/2011)
Pre-Recorded Audio Player (6/1/2011)
* Individual store prices may vary.
Description
The world has ended... What comes next? Smallpox epidemics, floods, droughts—for sixteen-year old Lucy, the end of the world came and went, stealing with it everyone she ever loved. Even the landscape of her beloved New York City is ever-shifting and full of hidden dangers. As the weather rages out of control, she survives alone in the wilds of Central Park, hunting and foraging for food and making do with the little she has, while avoiding roving scavengers and thieves. But when an unrelenting pack of vicious hounds begins to hunt her, Lucy is not sure she can continue on her own. Then, suddenly, she is swept to safety by a mysterious boy named Aidan, who helps her escape the hounds and urgers her to join a band of survivors. Reluctantly, she finds him after her home is destroyed; however, new dangers await her. An army of Sweepers terrorizes the camp, carting off innocent people and infecting them with the plague. Lucy and Aidan realize that it's up to them to save their friends, but Lucy doesn't know that the Sweepers have laid a trap—for her. There is something special about Lucy, and the Sweepers will stop at nothing to have her in their clutches. Jo Treggiari spins a thrilling tale of adventure, romance, and one girl's unyielding courage through the darkest of nightmares.
About the Author
Jo Treggiari was born in London, England, and raised in Ottawa, Ontario. Her first attempts at writing were when she started revising classic fairy tales at age eight. Jo spent several years in San Francisco, where she trained as a boxer, wrote for punk magazines, and owned her own record label. She now lives in Nova Scotia, Canada , with her husband and their children, and still enjoys shadowboxing when she isn't working at her local bookstore.
Praise For Ashes, Ashes…
"Cassandra Campbell draws out the combination of innocence and wariness that characterizes 16-year-old Lucy. Lucy has survived the plague that killed her parents and great numbers of others, destroying the world as she knew it. After living on her own for many months, she meets Aidan, who helps save her from the Sweepers. She decides to leave her solitary refuge in Central Park and seek out Aidan's small community—which consists of a few adults, a handful of teenagers, and a number of small children. Campbell maintains an underlying tone of hope even when things look bleak. She excels, in particular, at expressing the sweetness between Lucy and Aidan that is an oasis in their postapocalyptic world." 
J.E.M. © AudioFile Portland, Maine

or
Not Currently Available for Direct Purchase