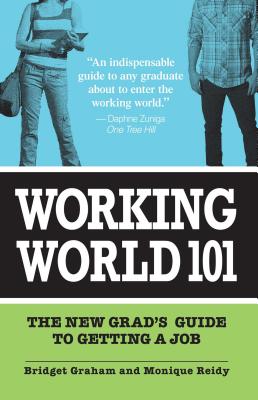 Working World 101 (Paperback)
The New Grad's Guide to Getting a Job
Adams Media, 9781598694956, 256pp.
Publication Date: April 18, 2009
* Individual store prices may vary.
Description
"After graduation, the real world can be an intimidating and foreign place for college graduates. Sure, they've spent the past four years cramming for exams, writing essays, and reading books, but they did so in the twentysomething bubble of their college campuses. This guide fixes these problems by covering everything the recent grad needs to know in order to get in and get ahead in corporate life. Authors
Bridget Graham
and
Monique Reidy
break down the process of entering the professional world, including how to:
Create the perfect resume
Nail the interview
Dress properly
Be articulate and poised
Carry on water-cooler appropriate conversation
With this guide, young people everywhere will develop the well-spoken poise, confidence, and professional attitude needed to succeed in the real world."
About the Author
Bridget Graham is a human resources manager and consultant for several companies in the Southern California area. She is a former regional human resources where she was responsible for 5 states in the Midwest region, 2,500 employees, 90 store managers and 6 district managers. She has hired and trained key individuals, developed and facilitated corporate leadership programs, and has also mediated employee conflict within organizations such Nordstrom, Inc., Klein Construction Group, and USCC (a distribution company with clients such as Mars Candy Company). She's been in the think tanks with board members and in the trenches with powerful customers and has always held her own. She loves to speak to large groups and has served as a trainer for hundreds of people in corporate orientations and development sessions.Bridget returned to school in the midst of a successful career to earn a master's degree in communication at Pepperdine University in Malibu, California. A native of Chicago, she moved to West Los Angeles a few years ago and has learned an entirely new culture. She strengthened her ability to meet people, connect, network, and develop relationships. While pursuing her studies as a full-time student, Bridget began to work for Malibu Times Magazine and quickly became the editorial assistant and is now, in addition to consulting in human resources, the part-time assistant editor as well as a freelance writer for both the magazine and its sister newspaper. She is also cofounder and editor of TheSavvyGal.com, a website magazine.Part of her assistantship at the university was working with undergraduate students in the journalism department. Whether it was writing for the student publications, coaching new writers on style techniques, or editing work, Bridget developed a sense of who those students are and what they are looking to achieve. A member of Society for Human Resource Professionals, National Communication Association, and the Society of Professional Journalists, Bridget also writes various employee publications such as handbooks, appraisals, and codes of conduct for several companies. Monique Reidy has a Bachelor of Arts degree in intercultural communication with a minor in sociology, and a master's degree in communication with an emphasis in journalism from Pepperdine University. Her graduate research focused on the impact of women's magazines on American culture, and she graduated cum laude with both degrees.A former editor-in-chief for Westlake Magazine, Monique currently is the co-founder and art director for TheSavvyGal.com, a Web based magazine. She also writes for a number of other Web sites, as well as local and international publications.She has written about travel, fitness, health and beauty, women and business, medicine, parenting, communication and relationships, women's issues, celebrity profiles, and restaurant, film, and book reviews. Prior to pursuing her writing passion, Monique worked as an advertising director, and owned and managed a design firm servicing clients such as the L.A. Dodgers, The USC Football Team, Showtime Networks, Amgen, Cal Fed Bank, and more.Monique belongs to the Society of Professional Journalists, the International Association for Relationship Research, the National Communication Association, and the Association for Education in Journalism and Mass Communication.She is an avid traveler and serves on a number of philanthropic committees. Tri-lingual, her interests lie in social sciences, fashion, health, and fitness. Monique, a mother of three young adult daughters, lives in Westlake Village, California, with her husband, Dr. Stephen Reidy.
or
Not Currently Available for Direct Purchase