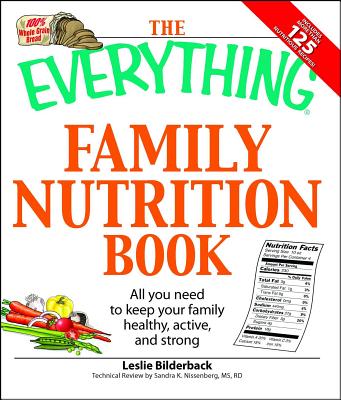 The Everything Family Nutrition Book (Paperback)
All you need to keep your family healthy, active, and strong (Everything®)
Everything, 9781598697049, 320pp.
Publication Date: April 18, 2009
* Individual store prices may vary.
Description
It can be hard to distinguish between fact and fiction when it comes to food and nutrition. This book informs families about their food choices so they can eat healthier meals together together and features 125 delicious recipes, including: Banana Walnut Bread, Southwestern Grilled Flank Steak Salad, Thai Spring Rolls, Brown Rice Pilaf with Apricots, and more. This book also offers nutrition tips for everyone from elementary-aged children to adults. This book is the perfect resource for families who want to eat healthy, live healthy, and stay healthy!
About the Author
Leslie Bilderback (Los Angeles, CA) is a chef in the Los Angeles Unified School District's Nutrition Network Program, where she delivers messages about nutrition to children throughout southern California, emphasizing whole grain, vegetable, and water consumption. A culinary instructor and executive chef at the California School of Culinary Arts, she is the author of several books. Sandra K. Nissenberg, MS, RD (Buffalo Grove, IL), is a registered dietician and nutrition consultant specializing in child nutrition. Nissenberg is the author of ten books, including The Everything Kids' Cookbook, How Should I Feed My Child?, and Quick Meals for Healthy Kids and Busy Parents.