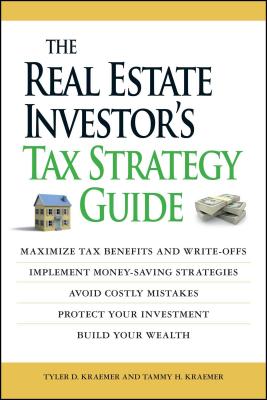 The Real Estate Investor's Tax Strategy Guide
Maximize tax benefits and write-offs, Implement money-saving strategies…Avoid costly mistakes,,Protect your investment.. Build your wealth
Paperback

* Individual store prices may vary.
Description
What's Section 1031? How does it help property investment? Who qualifies for its benefits? These are the answers serious real estate investors must know - and are the kind of issues tackled in this one-stop resource. Property owners will find all the useful (and money-saving) information on real estate taxes they need, like how to: shelter rental income and earn the most from vacation properties; maximize expense and loss deductions; participate in Tenant-in-Common investing; preserve their wealth by protecting their assets; and much more! It's important for everyone to know their legal rights - especially when it comes to their investments and money. This guide lays the foundation to build an investor's wealth.
Adams Media, 9781598697605, 272pp.
Publication Date: December 17, 2008
About the Author
Tammy H. Kraemer (Colorado Springs, CO) has been an attorney practicing business, real estate, and intellectual property law for almost ten years. She is currently in private practice. She worked in general counsel for a midsize software company with worldwide offices. She also worked at a large regional law firm in their corporate law and securities department. Kraemer has written and edited numerous articles for newsletters and law journals. She lives with her husband Tyler and their two children. Tyler D. Kraemer (Colorado Springs, CO) has been an attorney in private practice emphasizing estate planning, real estate, finance, and business law for almost ten years. His clients include lenders, borrowers, mortgage brokers, real estate brokers, real estate buyers and sellers, and business owners. Mr. Kraemer has been a part of outside general counsel for the REALTOR trade association and its for-profit multiple listing service, which included giving daily advice on homeowner issues. He has participated in National Association of REALTOR conferences and workshops dealing with all facets of homeowner issues. He lives with his wife Tammy and their two children.