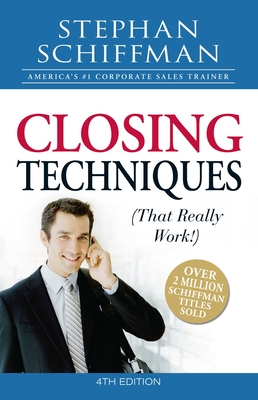 Closing Techniques (That Really Work!) (Paperback)
Adams Media, 9781598698206, 160pp.
Publication Date: March 18, 2009
* Individual store prices may vary.
Description
Many salespeople can line up prospects, recite the benefits of their product or service, and stir the interest of their client. But when it comes to actually closing the deal, they fail and the sale falls apart. That's where sales guru Stephan Schiffman comes in—and saves the sale. In this book, Schiffman reveals the pioneering techniques that have helped more than half a million salespeople nail the sales that matter. This book includes chapters on:
the four words to avoid during meetings
why salespeople shouldn't mix business with pleasure
the most important word when closing a sale
working existing accounts
About the Author
Bestselling author Stephan Schiffman founded D.E.I. Management Group in 1979 and has since led his company to become one of the nation's fastest growing sales training companies. A leader in motivational and sales training, he is a certified management consultant who has trained and consulted with a wide range of international corporations, including IBM, AT&T, Motorola, Sprint, and CIGNA. Schiffman has written over 50 books, which have sold well over six million copies internationally and have guided generations of salespeople through their career challenges. His articles are published frequently in publications such as The Wall Street Journal, The New York Times, Sales and Marketing Management, Personal Selling Power, Corporate Travel Magazine, and INC. magazine. Mr. Schiffman divides his time between managing D.E.I., selling, training, consulting, and product development. He continues to serve as a frequent guest on national radio and television shows, including CNBC's Smart Money, Minding Your Business, Steals and Deals, and Money Talk.