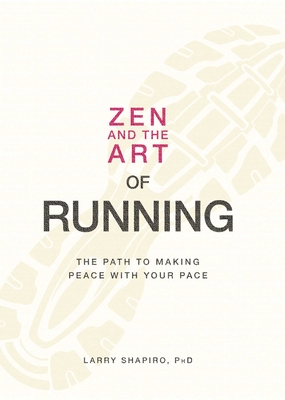 Zen and the Art of Running
The Path to Making Peace with Your Pace
Paperback

* Individual store prices may vary.
Description
All that I am, I am because of my mind.
--Paavo Nurmi, Olympic runner with nine gold medals in track & field
All runners strive to get in the "zone," but here they'll learn to enter the ZEN "zone"! By adopting Buddha's mindful approach, you will discover you can run longer, faster, and harder. This book shows how to align body and mind for success on - and off - the track! Iron Man triathlete and philosophy professor Larry Shapiro coaches you to:
Walk the talk: Get out and run
Practice mindfulness: Train harder
Visualize success: Race the Zen way
Accept and let go: Cope peacefully with injuries and aging
Complete with case studies, testimonials, and training techniques, this guide inspires seasoned runners and first timers alike to pound the path to enlightenmentùone stride at a time!
Adams Media, 9781598699609, 224pp.
Publication Date: November 18, 2009
About the Author
Larry Shapiro, PhD (Madison, WI), has run six marathons and, most recently, competed in an Iron Man triathlon (2.4-mile swim, 112-mile bike, 26.2-mile run). He has souvenir shirts from at least a dozen 10k races and six 20 mile races. When not in training, he'll run between 20 and 25 miles per week. When training, this number can balloon to about 40 miles per week. He has his MA and PhD in philosophy from the University of Pennsylvania and is currently a philosophy professor at the University of Wisconsin. He is widely published in philosophy and has an international reputation. His area of specialization is philosophy of mind, which deals with questions concerning the nature of mind and its relation to the body.