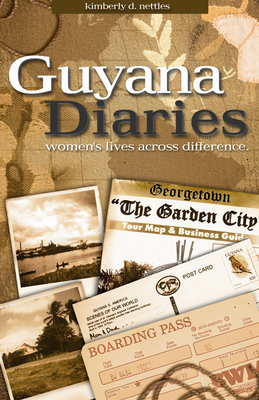 GUYANA DIARIES (Paperback)
WOMEN'S LIVES ACROSS DIFFERENCE (Writing Lives)
Left Coast Press, 9781598741957, 316pp.
Publication Date: September 15, 2008
Other Editions of This Title:
Hardcover (8/15/2008)
* Individual store prices may vary.
Description
Guyana Diaries narrates the life histories of members of the Red Thread Development Corporation, a group of women activists in the Caribbean. Kimberly Nettles, an African American researcher, explores the impact of their work on these women's lives and, in the process, discovers differences of class and nation that overshadow the gender and race she shares with her subjects. Blending feminist ethnography, critical autobiography, and literary narratives, Nettles examines both the collective and her own experiences in studying its members, producing an illuminating, evocative work of self and other. It should be of interest to those in race and ethnic studies, gender studies, Caribbean studies, development studies, and qualitative research.
About the Author
Kimberly D. Nettles is an assistant professor in Women & Gender Studies at the University of California, Davis. She received the PhD in sociology from the University of California, Los Angeles. She also held a Carolina Minority Postdoctoral Fellowship at the University of North Carolina, Chapel Hill. Nettles is the author of several articles on women activists in Guyana and feminist pedagogy. Her current research engages the ideas of food, race, and identity within the context of historic and contemporary black American culture and politics.
Praise For GUYANA DIARIES: WOMEN'S LIVES ACROSS DIFFERENCE (Writing Lives)…
"The search for home enables Nettles not only to write herself back into the text, but crucially to return to and name her experiences of feeling out of place and disconnected in Guyana.  She writes compellingly of the ways in which her research project – to work with women-of-color communities – was nurtured by her diasporic longing for identification as a black woman.  She reflects with refreshing honesty on how this desire was interrupted by growing uneasiness in "the field" and recognition of the differences of nation and class that interrupted any easy solidarity with the women of Red Thread."
—D. Alissa Trotz, New West Indian Guide
"When I picked up Guyana Diaries... I prepared myself to be swept away to another world, to become engrossed in someone else's life story, and to see and feel what it is like to go somewhere I've never been. I was not disappointed—Guyana Diaries is a wonderfully written book, interesting and sophisticated, and full of dialogue and life stories about activist women working with a collective in the country, as well as a bit about the activist woman academic who chose to write about them, resulting in the publication of this book."
—Laurie L. Charlés, The Qualitative Report
or
Not Currently Available for Direct Purchase