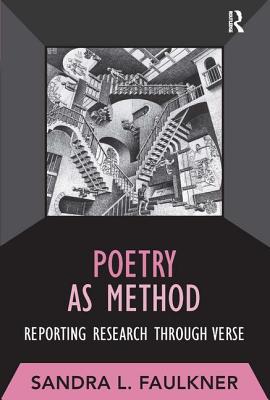 POETRY AS METHOD (Paperback)
REPORTING RESEARCH THROUGH VERSE (Developing Qualitative Inquiry #6)
Left Coast Press, 9781598744019, 160pp.
Publication Date: November 1, 2009
Other Editions of This Title:
Hardcover (11/1/2009)
* Individual store prices may vary.
Description
This book takes an interdisciplinary approach to using and creating poetry for conducting and reporting social research. It includes examples of poetry, interviews of poets, and practical exercises that will enhance the discussion of poetry writing as a method. When used as a teaching guide this book will encourage students to consider the importance of form and function in poetry for qualitative methods. It also answers the question of how to teach the creation and evaluation of poetry, it combats the perception that poetry is too difficult or mysterious to use as research and that only poets should be concerned with poetic craft.
About the Author
Dr. Sandra Faulkner is an assistant professor in the Department of Interpersonal Communication at Bowling Green State University in Ohio. She has co-authored two books including Redefining Culture: Perspectives Across the Disciplines (Lawrence Erlbaum 2006) and Sex and Gender differences in Close Relationsips (Guilford 1997). Her research interests include the role of culture and relational processes in discussions about sexual issues and disclosures of potentially stigmatizing identities (e.g. gay) as well as how culture influences perceptions of relationships and sexual communication. She has been awarded several grants as well as a Top Paper Awared in the Latino/a Division of the National Communication Association.
Praise For POETRY AS METHOD: REPORTING RESEARCH THROUGH VERSE (Developing Qualitative Inquiry #6)…
"Sandra Faulkner's thorough and accessible exploration of poetic inquiry in the social sciences synthesizes a mastery of both poetry and ethnographic research. This smart study forces would-be poet-researchers to consider questions of craft and quality in order to improve their work. She argues, quite rightly, that any poem, regardless of the author's prescribed discipline, must strive to become art. Without it, the poet-researcher honors neither the genre nor the reports from the field. In an increasingly interdisciplinary world and academy, this book makes an argument necessary for advancing qualitative narrative study. Just as no one would take the stage at Carnegie Hall without years of practice, no researcher should assume the hubris of publishing poetry without years of practice, study and technique. As a poet, I am very pleased to see this book in the world."

--Camille-Yvette Welsch, Poet
"This is a refreshing book that I would recommend that social scientists read even if they are not planning to write poetry. This is because Faulkner raises important questions about the epistemology of language – the tool that social scientists use to communicate their thoughts and research findings.... Books such as Poetry as Method can help extend our understanding and use of language, and offer food for thought regarding how we as social scientists use language (and how we could use it)."

—Venessa May, Qualitative Research
or
Not Currently Available for Direct Purchase