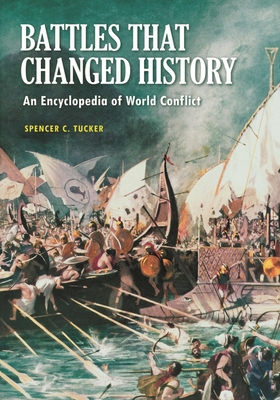 Battles That Changed History
An Encyclopedia of World Conflict
Hardcover

* Individual store prices may vary.
Description
The mythic and doomed stand of the 300 Spartans at Thermopylae; the siege of Carthage in 149-146 BCE, which ended with Rome destroying the city and enslaving the entire remaining Carthaginian population; the Battle of Hastings in 1066, arguably the most important battle ever on English soil; the Battle of Trenton that saved the American Revolutionary cause and established the military reputation of General Washington; the firebombing of Tokyo on the night of March 9-10, 1945, that destroyed one quarter of the city.
All of these conflicts--and hundreds more--played a crucial role in defining the direction of history and the evolution of human society. This text provides high school-level readers with detailed descriptions of the battlefield actions that have played the greatest parts in shaping military history and human existence. Special attention is paid to the greater historical context and significance of each battle, especially in relation to other events.
ABC-CLIO, 9781598844290, 655pp.
Publication Date: November 11, 2010
About the Author
Spencer C. Tucker, PhD, is senior fellow in military history for ABC-CLIO and the author or editor of more than 40 books and encyclopedias, many of which have been recognized by awards.