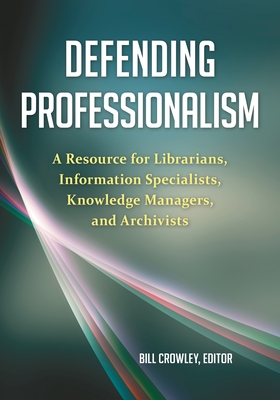 Defending Professionalism
A Resource for Librarians, Information Specialists, Knowledge Managers, and Archivists
Paperback

* Individual store prices may vary.
Description
There is no longer any way to deny or to escape the responsibility of marketing services and being an advocate for one's profession. Practitioners also need effective arguments and approaches for combating library and information deprofessionalization. This book offers the antidote for ineptitude in the fight to preserve professionalism in all major library and information environments.
Composed of 14 chapters written by contemporary practitioners and practitioners-turned-theorists, Defending Professionalism: A Resource for Librarians, Information Specialists, Knowledge Managers, and Archivists clearly justifies the employment of the professional librarian, information specialist, knowledge manager, and archivist. The contributors offer both short-term and long-term political, cultural, and other approaches for the ongoing effort to retain and expand professionalism. The book provides managers, funding authorities, educators, and practitioners with practical, political, and theoretical reasons why it is in their self-interest to employ professionally educated personnel for positions within libraries, information or knowledge management centers, and archives.
Libraries Unlimited, 9781598848694, 252pp.
Publication Date: May 15, 2012
About the Author
Bill Crowley, PhD, is a tenured full professor at Dominican University's Graduate School of Library and Information Science, River Forest, IL, where he has been a faculty member since 1996.