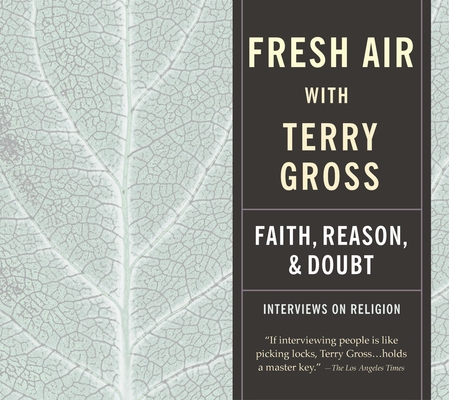 Fresh Air (CD-Audio)
Faith, Reason and Doubt
HighBridge Company, 9781598875331
Publication Date: September 15, 2008
Other Editions of This Title:
Digital Audiobook (10/19/2005)
Digital Audiobook (10/10/2004)
CD-Audio (10/11/2004)
CD-Audio (1/7/2007)
CD-Audio (10/20/2005)
Pre-Recorded Audio Player, Abridged (11/1/2010)
* Individual store prices may vary.
Description
Insightful and thought-provoking conversations exploring religion—and atheism—from diverse spiritual, cultural and political perspectives, as heard on the Peabody Award-winning radio show Fresh Air with Terry Gross.

One of the most popular programs on public radio, Fresh Air is carried by over 500 stations and in Europe on the World Radio Network. Each week, nearly 5 million listeners tune in to hear probing and reflective interviews about arts, culture and politics.

This new collection features interviews with an array of guests with diverse perspectives, from evangelical to atheistic, and the many places in between: Religious scholars Bart D. Ehrman and Karen Armstrong, scientist Richard Dawkins (The God Delusion), novelist Tim LaHaye, geneticist and evangelical Christian Francis Collins, Saturday Night Live's Julia Sweeney (Letting Go of God), and many more. As in previous Fresh Air collections, Terry Gross brings out the best in her guests with a variety of compelling interviews.
About the Author
Fresh Air with TERRY GROSS, the Peabody Award-winning weekday magazine of contemporary arts and issues, is one of public radio's most popular programs. Terry Gross started out in public radio in 1973, at WBFO in Buffalo. Soon after she became producer and host of Fresh Air, then a live, daily show broadcast locally, at WHYY in 1975. Fresh Air premiered nationally in its current hour-long version in 1987, designed as the lead in to the program All Things Considered. A recipient of the 2003 Edward R. Murrow award, Terry Gross has been called by the L.A. Times "One of the most thought-provoking interviewers working in the media today."
Praise For Fresh Air: Faith, Reason and Doubt…
"If interviewing people is like picking locks, Terry Gross…holds a master key."—The Los Angeles Times