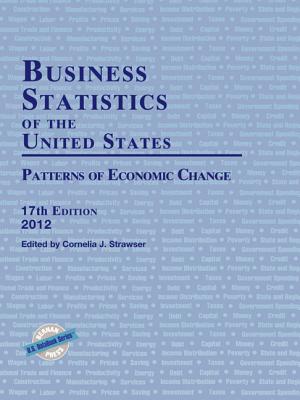 Business Statistics of the United States (Hardcover)
Patterns of Economic Change
Bernan Press, 9781598885286, 637pp.
Publication Date: November 2, 2012
* Individual store prices may vary.
Description
Business Statistics of the United States: Patterns of Economic Change is a comprehensive and practical collection of data that reflects the nation's economic performance since 1929. It provides over 80 years of annual data in regional, demographic, and industrial detail for key indicators such as: gross domestic product, personal income, spending, saving, employment, unemployment, the capital stock, and more. Business Statistics of the United States is the best place to find historical perspectives on the U.S. economy. Of equal importance to the data are the introductory highlights, extensive notes, and figures for each chapter that help users to understand the data, use them appropriately, and, if desired, seek additional information from the sources agencies. Business Statistics of the United States provides a rich and deep picture of the American economy and contains approximately 3,500 time series in all. The data are predominately from federal government sources including: -Board of Governors of The Federal Reserve System -Bureau of Economic Analysis -Bureau of Labor Statistics -Census Bureau -Employment and Training Administration -Energy Information Administration -Federal Housing Finance Agency -U.S. Department of the Treasury.
About the Author
Cornelia J. Strawser, PhD, is the senior economic consultant to Bernan Press. She edited the seventh through sixteenth editions and was the co-editor of two previous editions of Business Statistics. She was co-editor of Foreign Trade of the United States, 2001, and also worked on the Handbook of U.S. Labor Statistics. She was formerly a senior economist for the U.S. House of Representatives Budget Committee and has also served at the Senate Budget Committee, at the Congressional Budget Office, and on the Federal Reserve Board staff. Her initial experience consisted of compiling and analyzing the Board's Index of Industrial Production. In subsequent positions, she specialized in critical analysis of incoming economic data and advice to policy makers on subjects such as the interpretation of the position of the economy relative to the business cycle, the interactions between monetary and fiscal policy and the economy, and issues of income growth, income distribution, and poverty. Currently, she continually monitors the press and new government data releases in order to keep Business Statistics up to date and relevant, and also on occasion contributes corrections of mis-stated economic data to major daily newspapers. She holds a bachelor's degree from Stanford University and a PhD from George Washington University, both in economics.
or
Not Currently Available for Direct Purchase