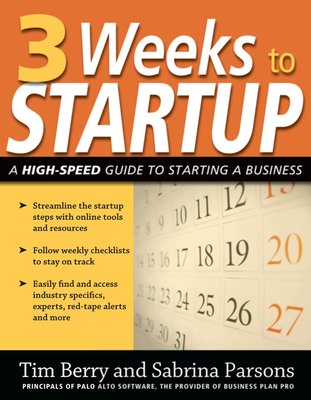 3 Weeks to Startup (Paperback)
A High Speed Guide to Starting a Business
Entrepreneur Press, 9781599181967, 378pp.
Publication Date: October 1, 2008
* Individual store prices may vary.
Description
Three weeks? Can you really start a business in three weeks? Yes, you can. Tim Berry, business planning expert and principal author of Business Plan Pro, the country's bestselling business plan software, and Sabrina Parsons, co-founder of Palo Alto Software UK, unveil a new, more innovative business landscape and show you how to streamline your startup using the fastest resource in the worldthe internet. Eliminate the exhausting, time-consuming legwork involved in traditional startup plans, and instead fast track your business using a wealth of online tools and services. Berry and Parsons help you build your business step by step, including establishing your business plan, making your business legal, financing your venture, hiring your staff and moreusing online tools and resources at every stage. Discover how easy it is to reach your dream of opening your own business faster than you ever thought possible. Let the countdown beginyou re just 3 weeks away from opening the doors to your new business
About the Author
Tim Berry is the founder and president of Palo Alto Software, the manufacturer of Business Plan Pro, bplans.com and co-founder of Borland International. He is the author of three business-planning books and is a popular blogger and speaker. Sabrina Parsons is CEO of Palo Alto Software as well as the co-founder of Palo Alto Software UK Ltd. and Lighting Out.