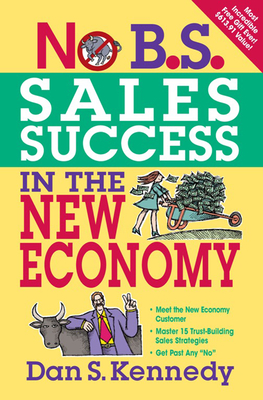 No B.S. Sales Success in the New Economy (Paperback)
Entrepreneur Press, 9781599183572, 258pp.
Publication Date: December 1, 2009
* Individual store prices may vary.
Description
In The New Economy, only a select few will gain and keep membership in the elite sales fraternity enjoying the top incomes, the greatest security, the most independence and power, and the highest status. And, who better to show you how to get in than Millionaire Maker" Dan Kennedy? Kennedy covers: Adapting to The New Economy Consumer How to STOP PROSPECTING Once And For Alland why you must Put the awesome power of TAKEAWAY SELLING to workin any environment If you're in a commodity business, get out!how to Re-Position, escape commoditization, and safeguard price and profits in the heightened competition of The New Economy The One Thing to do, to leverage The New Economy's Chaos of Choices" to your benefit How Dumb Salespeople Work 10X Harder Than Necessary, by under-utilizing this one tool The 6-Step No BS Sales Process: finally, a reliable system you can stick with! 6 Ways Sales Professionals Sabotage Themselves BS that Sales Managers shovel onto salespeoplebeware! How to switch from One-to-One to One-to-Many with Technical Tools 8 Steps to getting past any No" How to CREATE TRUST (FAST) in the trust-damaged, post-recession world
About the Author
Dan Kennedy (Phoenix, AZ) is internationally recognized as a "millionaire-maker," helping people in just about every category of business turn their ideas into fortunes. He is a leading consultant to other consultants and small business owners who hold influence over more than one million business owners.
or
Not Currently Available for Direct Purchase