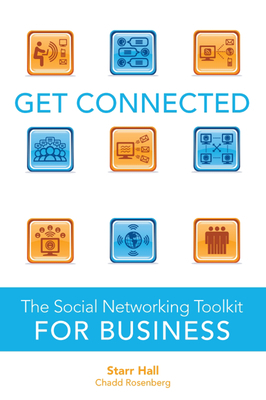 Get Connected (Paperback)
The Social Networking Toolkit for Business
Entrepreneur Press, 9781599183589, 206pp.
Publication Date: August 1, 2009
* Individual store prices may vary.
Description
Covers the top 20 social network sites
Sign On to Social Networking
This is Why Keep in contact with current clients Reach millions of potential clients Share your business news Be a voice in your industry Manage your company reputation Communicate with employees and partners Build your client list Boost your bottom line
Now, Learn How
Social media pros Starr Hall and Chadd Rosenberg take you behind the scenes of today's hottest social networks and help you uncover the best social sites for your business. Using simple steps and solutions, learn how to set up an attractive company profile, reach and engage your target market, develop stronger relationships with your current clientele, enhance your reputation, and become a recognized expert in your industry-investing nothing more than minutes a day Identify the best social-site matches for your business Brand your online profile using customizing features Develop content that increases your search engine exposure Practice proven techniques to engage and attract quality customers Use unique strategies to maintain and improve your company's reputation Incorporate social media marketing and advertising opportunities into future business plans
Plus, gain social networking success tips, insights, and techniques from practicing small businesses.
""Starr Hall is single handedly changing the world's conversation around social networking. From her insightful observations about the nature of these online communities to her practical, easy-to-manage strategies on how to use social networks to grow your business and get more clients - nobody has their finger on the pulse of this marketing tool like Starr Hall. If you're in business today, you simply must have this innovative guide to turning social media into one of your most lucrative marketing venues.""
--Jane Deuber, Bestselling Author, Consultant and President of Profit Partners Consulting
""Hall and sidekick Rosenberg get into the nuts and bolts here with a fine primer. Their no-nonsense approach serves to make the confusing array of choices a bit more comprehensible and actionable for clueless newbies. They review the sites, provide case studies and offer opinions. It's a very good approach and their book might be the perfect one for small businesses and practices that have limited resources and limitless ambitions.""
--Richard Pachter, "Get Marketing Help with New Social Media Books," "The Sacramento Bee.
About the Author
Starr Hall is the founder of 2 Point Media LLC, an international brand communications firm specializing in PR, social media, co-branding and licensing, which was recently acquired by a national award winning firm. She is currently CEO of Starr Hall Inc., an International Social Media and ePR Consulting/Training Firm.

Chadd Rosenberg is a new media specialist and audio engineer. He the founder of New World of Media, a podcasting and music production company that focuses on using social media tools to create and distribute audio and video content for corporations around the world.