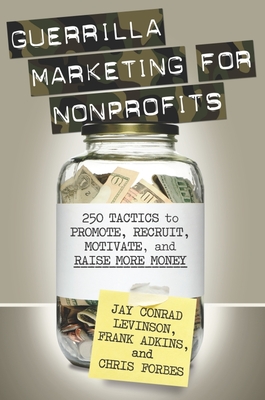 Guerrilla Marketing for Nonprofits
250 Tactics to Promote, Motivate, and Raise More Money
Paperback

* Individual store prices may vary.
Description
The Father of Guerrilla Marketing, Jay Conrad Levinson delivers the first book to adapt the profit-producing principles of Guerrilla Marketing to the world of nonprofits. The nonprofit sector has increased by 65%--a flood of new organizations are vying for donations, competing for volunteers, and carving out their share of the marketplace. Joined by co-authors Frank Adkins and Chris Forbes, Levinson shows nonprofit marketers how to gain the competitive edge they need by replacing their lack of money with the power of time, energy, imagination, and informationallowing them to maximize their impact and raise more money Armed with time-tested principles, 200 proven weapons of Guerrilla Marketing, and relevant tactics and tools, nonprofit marketers learn how to boost public awareness, increase effectiveness in recruiting volunteers, mobilize advocates, and raise more moneyno matter the state of their finances. Introduces the seven golden rules for fundraising success and recruiting volunteers 200 proven weapons of Guerrilla Marketing customized for nonprofits Covers publicity and social media tactics specific to the nonprofit community Concepts are illustrated through real-world examples and comparison tables.
Entrepreneur Press, 9781599183749, 336pp.
Publication Date: July 1, 2010
About the Author
Jay Conrad Levinson, the Father of Guerrilla Marketing, has sold more than 20 million copies worldwide. He is founder of the Guerrilla Marketing Association and the Guerrilla Marketing Business University, www.gmarketing.com Frank Adkins is the vice president of special projects for Guerrilla Marketing International. He is a certified Guerrilla Marketing business coach and internationally licensed Guerrilla Marketing master trainer Chris Forbes is a certified Guerrilla Marketing coach specializing in nonprofit marketing. He frequently consults within the Southern Baptist Convention with 16 million+ members