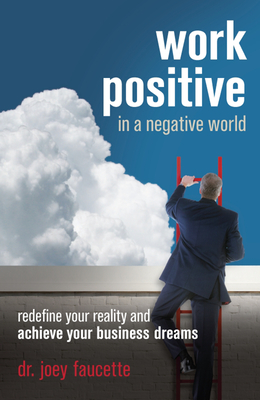 Work Positive in a Negative World
Redefine Your Reality and Achieve Your Business Dreams
Paperback

* Individual store prices may vary.
Other Editions of This Title:
Paperback (10/20/2020)
Description
Find Success in the Silver Lining
Step away from the negative shadows cast by the world's clouds and discover a positive reality--wide open with new solutions and opportunities. Unleash your power to Work Positive as you perceive, conceive, believe, achieve, and receive remarkable results in your business.
""Work Positive In A Negative World" is about power, action and principle. It's helpful, breezy and most of all, paradigm shifting. In our always-on, negative oriented media culture, Dr. Joey's book is a gift. Read it and change your life for the better."
--Tim Sanders, author of "Today We Are Rich"
"Read Dr. Joey's "Work Positive In A Negative World" and discover how to be one of those rare people that creates happiness wherever they go. If you do, you'll be labeled a big thinker and get to chart your own course."
--Michael Port, author of "Book Yourself Solid"
"To apply the strategies in this book is to dramatically improve your business and life--period. Dr. Joey's insights into how to "Work Positive In A Negative World" provide a powerfully effective blueprint for achieving higher levels of success in all areas of your life, to the point where others will be specifically seeking you out because they want the chance to network with you "
--Ivan Misner, "New York Times" bestselling author and founder of BNI, the world's largest business networking organization
"This book shows you how to unleash and channel your positive energy to get more done, better and faster than you ever thought possible."
--Brian Tracy, author of "How the Best Leaders Lead"
"When you get serious about becoming an Affluent Entrepreneur, you must read "Work Positive In A Negative World." Dr. Joey is one of the best at coaching you to Perceive, Conceive, Believe, Achieve and Receive your Work Positive lifestyle "
--Patrick Snow, international bestselling author of "Creating Your Own Destiny" and "The Affluent Entrepreneur"
"Dr. Joey Faucette has written a thought-provoking guide to the interior life. This is a book that strikes a deep chord of purpose."
--Dr. Richard Leider, bestselling author of "Repacking Your Bags" and "The Power of Purpose"
"Connecting with others is important, but connecting with positive others is supreme. Dr. Joey Faucette's "Work Positive in a Negative World" coaches you with great stories about how to "Conceive" with other positive people and deal with negative people--'Eeyore Vampires'--without becoming one. Read this book today and watch your positive connections grow tomorrow "
--Starr Hall, international speaker, fortune 1,000 marketing advisor, bestselling author of "Get Connected"
"If you want wisdom, truth and motivation to achieve your dreams, then listen to Dr. Joey. His words will help you soar "
--Rochelle Riley, nationally syndicated columnist and author of "Raising a Parent"
"Every page of this book is an 'aha' experience and helps the reader find his or her own solutions to their daily challenges. You must buy, read and absorb this book and if you really desire success in life, buy some extra copies for your family, boss and work colleagues. You'll be doing yourself a huge favor "
--Mike Podolinsky, CSP, Singapore Asia's Productivity Guru
"Dr. Joey's five core practices and the stories he tells in "Work Positive In A Negative World" make it easy to improve your attitude which determines your altitude and the impact you have on others.
--Hugh F. Gouldthorpe Jr., author of "I've Always Looked Up to Giraffes" and "How to Make a Giraffe Smile"
""Work Positive In A Negative World" masterfully touches your inner core through stories that move you to do the next right thing, much like the classics "Think and Grow Rich" and "How to Win Friends and Influence People.""
--Bob Nicoll, Chief Paradigm Shifter, Remember the Ice, Alaska
"Dr. Joey has this rare and unique ability to tell stories and communicate wisdom that brings out the best in you. He truly coaches you to redefine your reality so you fulfill your dreams."
--Kirk Colford, insurance agent, Fort Lauderdale, Florida
"From time to time you encounter truly extraordinary people. These people have the unique gift of communication. I count Dr. Joey as one of these rare people.
--Marty Lambert, radio executive, Charlotte, North Carolina
"I believe the customer service will improve at all our hotels because of Dr. Joey's formula of 'make a life and not just a living'."
--Pat Daly, Daly Seven Hotels, Danville, Virginia
"I love the message of "Work Positive In A Negative World" and the transforming power of Dr. Joey's five core competencies. Truly life-changing
--Andrea Shoffner, insurance executive, Greensboro, North Carolina
"Dr. Joey is a master storyteller "
--Joel Folger, radio consultant, Dallas, Texas
"When mountain biking, I've learned the cardinal rule about going where you're looking. Working in challenging times requires much of the same. Sure, there are serious concerns we all must deal with, but we have to know where we want to go, what is best, and focus our work on it. Dr. Joey's "Work Positive In A Negative World" helps me do that."
--Jim Qualls, REALTOR(R), Peachtree City, Georgia
"Dr. Joey showed our team that even during the most difficult times if you work positive, you will have positive results. We now work each day to 'perceive, conceive, believe, and achieve' the positive at work "
--Ceci McClure, insurance agent, Longwood, Florida
"Dr. Joey is the best at coaching you to "Work Positive in a Negative World." With his help, I redefined my reality and am achieving my business dreams "
--Paul Ashbrook, Ashbrook Audiology & Hearing Aid Center, Martinsville, Virginia.
Entrepreneur Press, 9781599184203, 228pp.
Publication Date: June 16, 2011
About the Author
Dr. Joey Faucette is an internationally known author, speaker, and coach. He has taught business professionals this life-transforming process for over two decades, leading individuals in organizations of every size to achieve amazing results. He is the founder of Listen to Life, a company that coaches people to redefine their reality and fulfill their business dreams. He is the host of the syndicated radio show, Listen to Life. Follow him on Twitter @drjoey and become a Facebook fan.
or
Not Currently Available for Direct Purchase