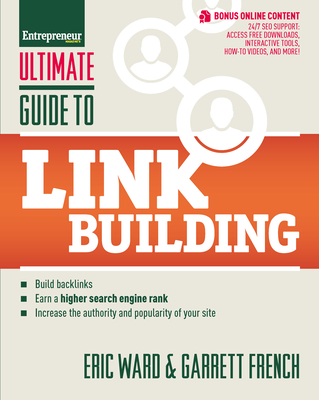 Ultimate Guide to Link Building
How to Build Backlinks, Authority and Credibility for Your Website, and Increase Click Traffic and Search Ranking (Entrepreneur Magazine's Ultimate Guides)
Paperback

* Individual store prices may vary.
Description
The web today is comprised of trillions of links: links between websites, links within social media venues like Facebook and Twitter, and even links in email inboxes. Who links to a site and how they link to it is one of the most important factors that search engines rely on when ranking results. But how do marketers control this? Link building expert Eric Ward provides the answers. Sharing little-known techniques for link building via social media platforms, blogs, partnerships, public relations, articles, and more, Ward teaches marketers which link-building techniques will maximize the quality links that point to their site, allowing them to charm both search engines and customers and which methods to avoid. This one-of-a-kind guide details a variety of link building tools, tactics, and techniques illustrated by case studies, expert interviews, and resources. Ward leaves no opportunity unexplored, and no link-building questions unanswered.

Praise For Ultimate Guide to Link Building: How to Build Backlinks, Authority and Credibility for Your Website, and Increase Click Traffic and Search Ranking (Entrepreneur Magazine's Ultimate Guides)…
Eric Ward and Garrett French have put together a solid, easy-to-read link-building primer. The book provides simple explanations and straight forward advice when it comes to building links; chapters are well outlined and flow from point to point. If you are new to link building this book is a great resource for anyone looking for tools, tactics, and case studies to learn from.
- Debra Mastaler, President of alliance-link.com


Eric Ward has been a thought leader in how to build links the right way since before there even was a right way. His extensive relationship building background mixed with challenging projects has given him insights and methodologies that are advanced and increasingly necessary in today's Internet marketing world. He has brought his many years of hard fought experience to the pages of this book, and I heartily recommend it to anyone seeking to grow their skills.
- Bruce Clay, CEO of International SEO firm bruceclay.com, and author of Search Engine Optimization All-In-One for Dummies


Eric Ward pioneered the practice of link building as a marketing channel and continues to be among the thought leaders of the field. His expertise and hands-on experience are virtually unmatched, and I'd recommend his book to anyone who uses links to help grow their business.
- Rand Fishkin, CEO of SEOmoz.org


Those who want link building done right by the best in the business flock to Eric Ward and count themselves lucky that the maestro isn't booked into the next millennium.
- Jim Sterne, targeting.com, Founder of the eMetrics Marketing Optimization Summit and Founding President and current Chairman of the Digital Analytics Association



An SEO classic! This link-building book by far provides the very best advice, stories and actionable white- hat link-building tips. This is the best link-building book I have ever read!
- Nick Stamoulis, Founder of SEO Firm BrickMarketing.com



For anyone who's been hit' by Panda, Penguin, or any other algorithmic update by Google, this book is a must-read. It's time to quit looking over your shoulder and start building links that will stand the test of time. Eric has been one of the foremost thought leaders on link building since before links became a dominant ranking factor, so there's no one better to train you on seeking out and acquiring the high-quality links that will bring you visibility and mindshare that go far beyond search engine results.
- David Mihm, DavidMihm.com, Co-Founder of GetListed.org.



Eric Ward is the old school mac daddy link master.
- Lee Odden, CEO of TopRank Online Marketing, Publisher of toprankblog.com


Eric's skill at website promotion is legendary. We've been using his services since 1995, and on more than one occasion had to work closely with our hosting service to keep our servers up under the high traffic loads that resulted from Eric's publicity!
- Amy Strycula, Founder of CatsPlay.com

Eric Ward has been building links and educating people on how to do it the right way since before even search engines decided links were important. Read and learn!
- Danny Sullivan, Founder and Editor-in-Chief of SearchEngineLand.com


Eric Ward is hands-down the smartest thinker in the space when it comes to link building. I guarantee this book will open up any mental blocks you've had about where to get started and set you on a path to becoming a link magnet.
- Mike Grehan, Publisher of Search Engine Watch and ClickZ.com, Producer SES International, and SEMPO Board of Directors



If you're in SEO and take your job seriously, you know Eric and Garrett. When Eric and Garrett talk about link building, you listen. The only issue when they talk is there's too much genius to write it all down. So, when they do the writing down for you, you buy the book and read it. Twice. At least. You won't regret it.
-Joost de Valk, Founder and CEO of Yoast.com



Eric is the undisputed master of quality link building. We've worked together for years and he's frequently surprised me with new insights and little-known, and easily executed, strategies to build our customers' backlink portfolios.
- Richard Stokes,CEO of AdGooroo.com and author of Mastering Search Advertising - How the Top 3% of Search Advertisers Dominate Google AdWords and The Ultimate Guide to Pay-Per-Click Advertising
Entrepreneur Press, 9781599184425, 234pp.
Publication Date: March 1, 2013
About the Author
Garrett French is the founder of Citation Labs, a boutique agency that specializes in custom link-building tools and services to solve large-scale marketing problems. He is also an online marketing consultant working with major companies in customer relationship management, consumer packaged goods, and online health information.
or
Not Currently Available for Direct Purchase