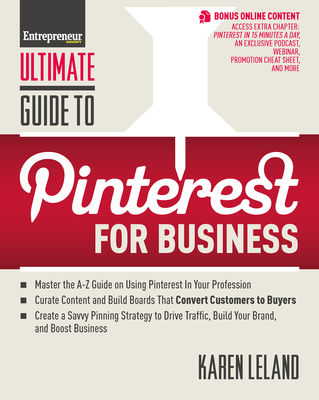 Ultimate Guide to Pinterest for Business (Paperback)
Entrepreneur Press, 9781599185088, 189pp.
Publication Date: May 1, 2013
* Individual store prices may vary.
Description
With 4,000 percent growth in just six months, 17 million + users, and a record for more referral traffic than YouTube, Google+, and LinkedIn combined, Pinterest delivers an unbelievable opportunity for business owners and marketers like you . . . if you know how to effectively use it. Karen Leland acquaints you with the newest social media kid on the block, covering: the ins and outs of signing up and getting started
building boards that get noticed, drive traffic, and convert fans into customers
creating a Pinterest community through power connections, contests, social media outreach, and smart pinning strategies
strategies for becoming a power Pinterest user and creating an enthusiastic following
best practices for pins that promote, including image optimization, consistent branding, social media integration, and high-value content
Pinterest etiquette Learn to expand your business and brand's success -- one pin at a time.

About the Author
Karen Leland (Tiburon, CA) is the best-selling author of seven books and a freelance writer who has been published in Self, Woman's Day, Spirituality & Health, Entrepreneur, the Los Angeles Times, and others. The founder of Sterling Consulting and Marketing Group, her clients have included Apple Computer, American Express, Marriott Hotels, Johnson & Johnson and others. Leland is also a popular speaker for business groups including the Young Presidents' Organization, American Management Association and Direct Marketing Association. She is a frequent guest of the media and has been interviewed for her expertise by The New York Times, Fortune, Inc., Oprah, The Today Show, CNN, The Wall Street Journal, and others. Leland has also written extensively for the online market with featured articles in CNBC.com, All Business.com, Salon.com, The Huffington Post and PsychologyToday.com.
Praise For Ultimate Guide to Pinterest for Business…
Every small business should read this book - not only because it will show you exactly how to use Pinterest to promote your business, but for the marketing and branding lessons Karen Leland has managed to weave throughout the book. Make Pinterest work as hard as you DO!
-Berny Dohrmann, Founder, CEO Space, Bestselling Author, Redemption the Cooperation Revolution

Ultimate Guide to Pinterest for Business provides the reader with a step-by-step approach and a clear path for maximizing communication in their business or profession. Karen's in-depth knowledge of social media, marketing, and branding are a bonus for anyone wanting to integrate Pinterest into their marketing mix.
-Michelle Patterson, Executive Director, California Women's Conference

Karen Leland's Ultimate Guide to Pinterest for Business is a gem! She has provided the must-have, must-read playbook for pinning in business. I've learned so many ideas, details and strategies that will impact and improve the Pinterest portion of my business and life.
-Susan RoAne, Author, How To Work a Room and The Secrets of Savvy Networking

WOW. This book is AMAZING! If you're ready to learn everything you need to know about successfully using Pinterest, then read and absorb the strategies in this brilliant book by Karen Leland!
-James Malinchak, The World's #1 Big Money Speaker® Trainer & Coach featured on ABC's hit TV show, "Secret Millionaire," Founder, BigMoneySpeaker


Can you make money using Pinterest? Absolutely! Karen Leland's new book shows you the exact steps to master the art of relationship marketing on Pinterest. Read this well-written, comprehensive book, and you'll be attracting and converting leads into paying customers in no time!
-Mari Smith, Social Media Thought Leader, Author, The New Relationship Marketing, Co-author, Facebook Marketing: An Hour A Day

Authoritative, accessible, and specific -- this guide is an invaluable
resource.
-Gretchen Rubin, Author, The Happiness Project

Karen Leland has one of the best grasps on branding I've seen. Ultimate Guide to Pinterest for Business is more than just a book on using Pinterest for marketing, it's a handbook for anyone who wants to understand how to approach branding and social media in today's complex online world.
-Olivia Fox Cabane, Author,The Charisma Myth: How Anyone Can Master the Art and Science of Personal Magnetism

Karen is the behind-the-scenes secret for the success of many small business brands. Her take on Pinterest makes this a fascinating book with a roadmap on how to use this popular platform to increase community engagement, brand visibility, and sales.
-Susan Harrow, Author, Sell Yourself Without Selling Your Soul

Leland shows you exactly how to use this wildly popular tool to pull in more customers and boost our brand's visibility and credibility.
-Kare Anderson, Author, Moving From Me to We, Quotable and Connected" Columnist, Forbes and Huffington Post

If you haven't figured out how to make Pinterest work to build your brand, business or platform, Karen Leland's book gives you the details you need to get results without wasting your time. Pinterest is a force to be reckoned with when you know what to do and how to do it, and Karen does both.
-Mike Koenigs, CEO, Instant Customer