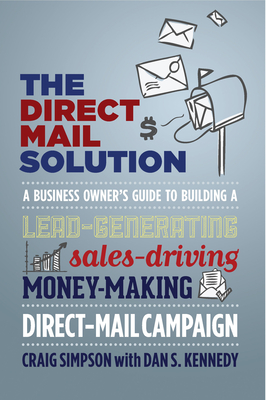 The Direct Mail Solution
A Business Owner's Guide to Building a Lead-Generating, Sales-Driving, Money-Making Direct-Mail Campaign
Paperback

* Individual store prices may vary.
Description
Fact: More commerce and wealth is created by direct mail than by any other media (true before the internet and true now)
Direct mail continues to delivers the best ROI for customer acquisition and retention, so why do 21st Century marketers ignore it? Millionaire-maker Dan S. Kennedy and direct mail marketing specialist Craig Simpson urge small business owners to take that detour away from the screen and drive the momentum built via social media and other marketing avenues into the mailboxes of their target consumers. Unlike other direct mail marketing books on the shelf that specialize in one aspect of preparing a campaign such as copywriting or design, this comprehensive solution covers all--the organizational, technical, and creative including designing, budgeting, tracking, and assessing effectiveness. Also covered is how direct mail can be used in today's online marketing funnels. Benefiting from the authors' combined 30 years in direct marketing, business owners are given the guidelines for what works and what doesn't, illustrated by real-life business campaigns that show step-by-step how to build a results-producing promotional campaign.
Praise For The Direct Mail Solution: A Business Owner's Guide to Building a Lead-Generating, Sales-Driving, Money-Making Direct-Mail Campaign…
Craig Simpson and Dan Kennedy paint a powerful picture of the 'A to Z' you need to know about direct mail. Whether you are just about to do your first mail piece, or you're a seasoned pro mailing millions of pieces per year, there are valuable 'gems' in this book for you. If you'll stop tweeting and checking your Facebook account long enough to read this book, you just mat add another million to your portfolio in the years to come!
—Dr. Tom Orent, CEO, Gems Publishing, USA


Direct Mail Marketing is the hidden secret of many entrepreneurs and small business owners, yet most waste tons of money because they don't understand the 'science' behind it. Craig Simpson and Dan Kennedy walk you step-by-step through this amazing, and highly efficient marketing tool, in The Direct Mail Solution. I believe this powerful, practical road map is a must for every business that is looking to grow their sales volume.

—Ben Glass, Great Legal Marketing


Craig Simpson and Dan Kennedy have written a masterpiece on direct mail. Every hospital, physician practice and healthcare facility should have this book on their desk to follow as the authority on acquiring new patients and reaching new markets through their proven strategies. I have personally seen the results of Craig and Dan's direct mail work and they are REAL and deliver RESULTS!
—Lisa T. Miller, MHA, Founder & CEO VIE Healthcare


Whether you market an industrial B2B business or a main street retail store, The Direct Mail Solution will walk you through the steps of creating your own direct mail program. Using Craig Simpson's methods our business has experienced three consecutive years of double-digit comparable sales growth. Avoid the costly mistakes and learn from the master of direct mail by reading this book.
—Steve Adams, CEO, U.S. Retail, Inc. Franchisee of Pet Supplies Plus Alabama, Michigan, Texas and Wisconsin
Entrepreneur Press, 9781599185187, 228pp.
Publication Date: January 28, 2014
About the Author
Craig Simpson is the owner of Simpson Direct, Inc., a direct marketing firm based in Oregon. Since beginning his career in direct mail nearly 20 years ago, he has managed thousands of direct mail campaigns, helping to gross hundreds of millions in revenue for his clients. His direct marketing company sends out nearly 300 mailings per year for his private clients. He works in practically every industry, marketing everything from courses on the benefits of drinking water, to technical software, retail stores, real estate investment, financial services, health products, diet programs, insurance, and even wholesale clothing. He lives in Grants Pass, OR. Dan S. Kennedy is a strategic advisor, consultant, business coach and editor of six business newsletters, and he directly influences more than one million business owners annually. He is a champion of small business owners and entrepreneurs with a long track record of taking entrepreneurs to seven-figure incomes and multi-millionaire wealth. He lives in Phoenix, AZ.