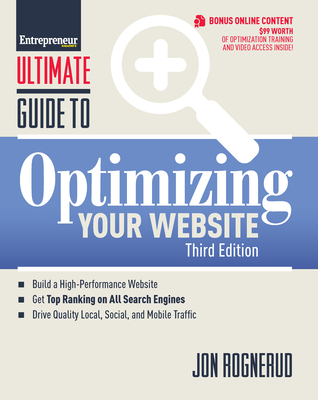 Ultimate Guide to Optimizing Your Website
Paperback

* Individual store prices may vary.
Description
BE DISCOVERED with SEO Tactics for All Technical Levels Written for beginners, author Jon Rognerud offers every tip, trick, and secret from keyword research and competitive analysis, to marketing and messaging, content development, link building, and conversions and tracking of search engine positions. Local search, social media, and blogging are new to this edition, and show examples on how to optimize these important new development areas. Updated content includes social media search content that reflects strategies and market information to helps business owners easily add this companion to SEO work, blog optimization steps with best SEO tactics for creating search engine friendly sites, and the top ten hottest WordPress plugins for top traffic boost. A local SEO section shows readers how to avoid the most common mistakes on optimizing for local search and the updated section on Google analytics shows how to track top keywords and pages. An updated link building section provides new white hat SEO link building tactics to provide better long term rankings and traffic building, and an expanded resource section includes updated screen-shots of SEO applied. Step-by-step examples are written with an "at the kitchen table" type dialogue for accessibility and an advanced strategy section takes readers to the next level.
Praise For Ultimate Guide to Optimizing Your Website…
This book is the perfect prescription for anyone suffering from SEO overwhelm. Rognerud's approach breaks down SEO in a simple-to-understand way then builds on visibility breakthrough concepts. I ultimately love this holistic approach to SEO. His strategic approach teaches how to get people TO a site but it also helps plan ways to get them THROUGH it to maximize ROI.
Lorrie Thomas Ross, M.A., Author, The McGraw-Hill 36-Hour Course to Online Marketing, lorriethomas.com

Rognerud has a long history in technology, business consulting, and web development. His new book reflects that knowledge and experience in the search marketing field. He is a smart guy, and for folks starting in SEO, I suggest you pick up a copy.
—Andy Beal, MarketingPilgrim.com

Rognerud is a master in SEO and internet marketing. The tips and suggestions that he offers in his book are easy to understand and to implement even for a novice. He also offers many other powerful strategies that even an old pro like me finds insightful. This is one of the few books that I recommend to students at our SEO workshops.
Radar" Roy Reyer, Certified Advanced SEOSearch Engine Academy, SEOtrainingSW.com

This is the best treatment of SEO I've seenget this book! It's the first SEO reference that also covers the latest in social and local search. At over 300 pages, you can brush up on your skills or just put it on your bookshelf to impress your colleagues!
Dennis Yu, Chief Executive Officer, BlitzLocal
Entrepreneur Press, 9781599185200, 320pp.
Publication Date: February 18, 2014
About the Author
After leaving Yahoo in late 2004, Jon Rognerud began a search marketing firm in 2005 that lead to a new company, Chaosmap Internet Marketing Architects. He has contributed to Entrepreneur.com and is a frequent media resource on the topics of search engine marketing, online business strategies, and entrepreneurial mindset insights. He speaks, trains, and coaches organizations in the U.S. and abroad on how to build and run their Internet Marketing Strategies for increased profits -- using SEO, Social Media, Pay Per Click and more. He lives in Torrance, CA.