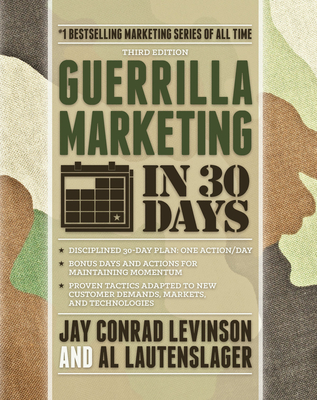 Guerrilla Marketing in 30 Days (Paperback)
Entrepreneur Press, 9781599185316, 326pp.
Publication Date: June 10, 2014
* Individual store prices may vary.
Description
Updated with fresh examples, the latest techniques and trends, new success stories, and fresh, practical marketing habits for today's aspiring guerrillas, this new edition provides marketers with the latest guerrilla marketing tools and tactics. In just 30 chapters and 30 days, famous marketers Jay Conrad Levinson and Al Lautenslager show eager entrepreneurs how to zero in on their marketing goals and maximize their profits. New marketers learn from updated real-life examples and success stories and proven fundamental concepts, and use daily exercises to take their marketing to the next level -- ultimately increasing profits, cutting costs, and gaining new customers. Topics detailed in this new edition include proximity marketing, thought leadership, integration of online and offline marketing, speaking and events, direct email, personalization, and implementation. With every step, Levinson and Lautenslager provide thorough action plans to help aspiring guerrillas stay on track, leaving no excuse for anything but success.
About the Author
The late Jay Conrad Levinson is the Father of Guerrilla Marketing. His books have sold more than 21 million copies worldwide, appear in 62 languages and have become the most powerful brand in the history of marketing. He was the chairman of Guerrilla Marketing International. Learn more at gmarketing.com. Al Lautenslager is an award-winning marketing expert, best-selling author, highly sought-after speaker, consultant and entrepreneur. He is the principal of Market For Profits, a Midwestern-based marketing consulting firm, former president and owner of The Ink Well a direct marketing, printing and mailing company, and a Certified Guerrilla Marketing Coach.