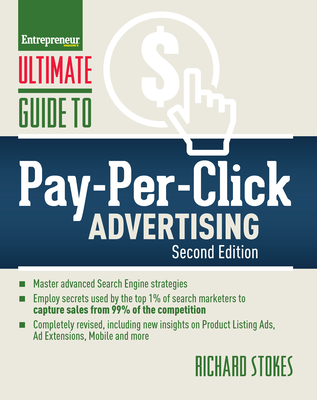 Ultimate Guide to Pay-Per-Click Advertising
Paperback

* Individual store prices may vary.
Description
Millions compete for exposure on Google and Bing but 99% of them fail to get results. As the founder of leading digital intelligence firm AdGooroo, search advertising authority Richard Stokes is in a unique position to reveal what's going wrong and provide solutions to fix it. Using proven strategies from today's search advertising elite, discover how to drive significantly more traffic to your site, dramatically increase click-through rates, steal impressions from competitors, boost your conversions, and increase your sales by unbelievable amounts. Since the previous edition, there have been a number of revolutionary changes in paid search. First, we are increasingly searching from our cell phones rather than desktop computers. Second, Google is no longer the only game in town. Bing now accounts for 30 percent of all U.S. searches. Finally, "search extensions" have become a powerful new technique you can use to collect phone numbers and email addresses with your ads, limit your ads to certain times of day, deliver coupons to nearby customers, and even provide handy "call me" buttons that are displayed only on cell phones. In this new edition, Stokes details all this and more.
Praise For Ultimate Guide to Pay-Per-Click Advertising…
Wherever you are in your pay-per-click journey and your evolution as an entrepreneur or marketing professional, I wish you the very best of success. You've already done more than most people will do: You've picked up an excellent book by a world-class expert. So you deserve it. Now, sit at Richard's feet and hear what wisdom he has to share.
—Perry Marshall, author of Ultimate Guide to Google AdWords and 80/20 Sales and Marketing

This book reveals the inner workings of the search ad networks without using tea leaves and crystal balls. Instead, it focuses on the few strategic metrics that make a difference, and backs them up with valid data from real campaigns. It's the first book I've read that made me feel I could take data-driven action to improve my search advertising campaigns. Most importantly, I now know something that other search marketers don't.
Brian Massey, author of Your Customer Creation Equation

This is required reading for any online marketer who wants to be in the 1% of successful search engine marketers. What Richard says is right on the money and has led my own clients to realize 3X to 5X sales growth in a matter of months on mature campaigns that had been 'optimized' and managed previously by other agencies.
Kevin Milani, VP of Digital Marketing, Virtual Marketing Staff LLC

Brilliant insights. Advanced material. Don't think, just buy it. Rich is one of those guys that makes you sit up and listen closely. His knowledge of the data behind AdWords is quite literally unparalleled (outside a few people in Google. Maybe.). He digs in deep and makes you smirk in awe at the clever ways all that data can help you improve your account. A must read.
Mike Rhodes, CEO, WebSavvy.com.au

This book guides you to build a quality campaign from the ground up to compete on the highest level.
Ping Jen, Product Manager, Bing Ads

The title of this book isn't pulling any punches; it really is the "ultimate guide" to pay-per-click advertising. Whether you're just getting started with PPC or if you're an old Pro, this book is not only "ultimate" but it is also essential. Each chapter is filled with timeless information that can serve as the bedrock of your PPC campaign foundation. The strategies in this book will improve your PPC performance and ultimately grow your business. This content will deliver value for years to come. Your ROI on buying this book is off the charts!
Joseph Kerschbaum, Midwest Account Director, 3Q Digital

Just buy this one. Stokes writes the one PPC book to own in 2014. Great for beginners, required reading for those in the know. Up-to-the-moment fresh for 2014.
Rob Sieracki, Co-founder, Ox Optimal PPC Consultancy

If you or anyone on your team needs to learn or get refreshed with the fundamentals of paid search marketing, this is the book for you. Clean, simple, and very actionable.
Rob Griffin, EVP, Havas Media
Entrepreneur Press, 9781599185347, 292pp.
Publication Date: March 18, 2014
About the Author
Richard Stokes is the founder and CEO of AdGooroo, a Kantar Media company and leading provider of digital marketing intelligence. One of the industry's foremost authorities on search engine marketing, Richard is a regular speaker on search topics and a certified expert in both email marketing and conversion optimization. He lives in Glenview, IL.
or
Not Currently Available for Direct Purchase