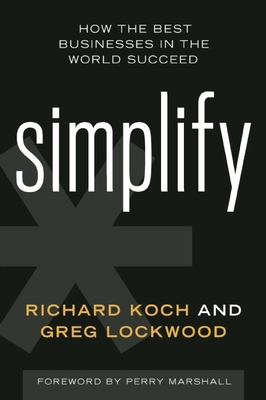 Simplify (Hardcover)
How the Best Businesses in the World Succeed
Entrepreneur Press, 9781599185996, 224pp.
Publication Date: October 11, 2016
* Individual store prices may vary.
Description
Are you ready to become the next market leader? Investor and successful entrepreneur Richard Koch and venture capitalist Greg Lockwood have spent years researching what makes successful companies--such as IKEA, Apple, Uber, and Airbnb--achieve game-changing who status. The answer is simple: They Simplify. Take Your Business from Startup to Game Changer. Start simplifying today.
About the Author
Richard Koch is an entrepreneur who has made over $300 million from starting businesses and investing in early stage venture capital. His businesses have included Filofax, Plymouth Gin, Belgo Restaurants, Betfair, FanDuel, and Auto1. Formerly he was a consultant with the Boston Consulting Group and a partner of Bain & Company before co-founding LEK Consulting. He is author of many books on business and ideas, including The 80/20 Principle, which has sold over a million copies and been translated into 35 languages. Richard wrote the foreword to the Entrepreneur Press bestseller, 80/20 Sales and Marketing by Perry Marshall. Greg Lockwood is a founder of Piton Capital, a London-Based venture capital firm that invests in businesses with network effects. He has a Masters of Management degree from the Kellogg Graduate School of Management, and is the co-author of Superconnect with Richard Koch. Perry Marshall is the #1 author in the world for independent advice on Google's advertising system. His book The Ultimate Guide to Facebook Advertising is similarly respected in its realm, and 80/20 Sales and Marketing is the definitive text of its kind.