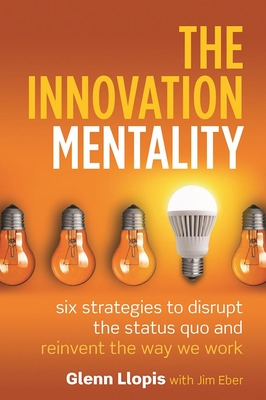 The Innovation Mentality
Six Strategies to Disrupt the Status Quo and Reinvent the Way We Work
Hardcover

* Individual store prices may vary.
Description
ARE YOU MISSING GROWTH OPPORTUNITIES THAT ARE RIGHT IN FRONT OF YOU?
Today's marketplace growth and business evolution requires leaders to immediately identify and close opportunity gaps by leveraging the full potential of their workplace culture, employees, teams, partnerships, and client and consumer relationships. This requires leaders to take ownership of a new mindset: the innovation mentality. In this insightful yet practical book, Glenn Llopis brings attention to the alarming leadership identity crisis plaguing today's businesses and articulates the mindset behind
The Innovation Mentality
to help leaders like you recognize and capitalize on growth opportunities.
Llopis delivers an in-depth look at what it really means to be a leader and invites you to discover and implement six essential strategies designed to disrupt the status quo and reinvent the way you work. These six strategies will help you:
Discover your leadership identity and what you solve for
Define your workplace culture to attract and develop talent that best serves the marketplace
Move employees from the fringe to the center of your growth strategy
See diversity and inclusion as a profit center rather than a cost center
Entrepreneur Press, 9781599186030, 250pp.
Publication Date: February 14, 2017
About the Author
Glenn Llopis (pronounced 'yo-pes) is the Chairman of the Glenn Llopis Group--a nationally recognized thought-leadership, human capital, and business strategy consulting firm. As a speaker, consultant, and executive coach to Fortune 500 companies and beyond, Glenn guides leaders and organizations to embrace a new type of thinking that helps them evolve and stay ahead of the rapid changes in the workplace and marketplace to drive growth. He is the best-selling author of the book Earning Serendipity and contributing writer to Forbes, Huffington Post, and Harvard Business Review. He has been recognized as a top 20 influential writer at Forbes and a top 100 leadership speaker and business thinker by Inc. magazine. Jim Eber is a veteran marketing writer and collaborator specializing in business and food. He has worked with many new and established authors on projects and served as the writer on the best-selling Think Big, Act Bigger by Jeffrey Hayzlett.