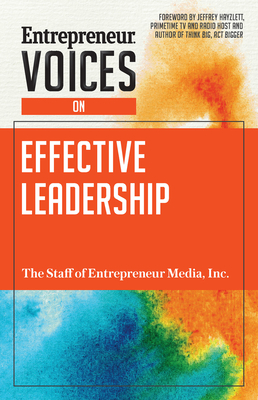 Entrepreneur Voices on Effective Leadership (Paperback)
Entrepreneur Press, 9781599186177, 200pp.
Publication Date: January 16, 2018
* Individual store prices may vary.
Description
Leadership comes in all shapes and sizes, and while effective leadership can get a startup to skyrocket nearly overnight, ineffective leadership can just as easily break down a business.
In this book, Entrepreneur's community of small business owners and entrepreneurs share their battle-tested strategies, hard-won advice, and impart the secrets behind what works and what doesn't when it comes to leadership in the startup business world.
Readers will get insight on:
Effective communication in leadership positions Servant leadership and team-focused leadership Leadership development among team members Leadership transitions and new leadership Common habits and traits of successful leaders Advice strong leaders should and shouldn't listen to.
About the Author
For more than 30 years, Entrepreneur Media, Inc. has set the course for success for millions of entrepreneurs and small business owners. We'll teach you the secrets of the winners and give you exactly what you need to lay the groundwork for success.