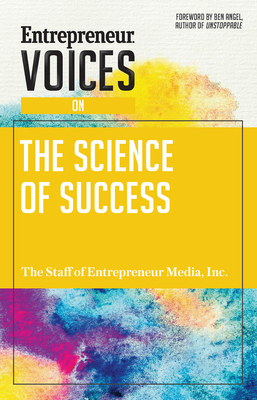 Entrepreneur Voices on the Science of Success
Paperback

* Individual store prices may vary.
Description
Whether at work or at home, success is something we strive for in all aspects of our lives. And while there are a number of obvious things you should be doing in order to achieve your goals and reach success, there are also some not-so-obvious ones. Entrepreneur Voices on the Science of Success offers data and research-backed tools and tactics for both business and personal achievement from entrepreneurs and small business owners including Tim Ferris, Brian Tracy, and Reid Hoffman.
Readers will learn how to apply the science and research-backed tools to help them:
Implement daily habits to increase productivity and create a billion-dollar business Capture the right audience, enhance their brand experience, and increase customer loyalty Learn how to use science to close deals and increase revenue Reduce stress, thrive at work, and change their mindset to live a happier and more balanced life.
Entrepreneur Press, 9781599186344, 278pp.
Publication Date: September 25, 2018
About the Author
For more than 30 years, Entrepreneur Media has been setting the course for small business success. From startup to retirement, millions of entrepreneurs and small business owners trust the Entrepreneur Media family--Entrepreneur magazine, Entrepreneur.com, Entrepreneur Press, EntrepreneurEnEspanol.com, and our industry partners--to point them in the right direction. The Entrepreneur Media family is regarded as a beacon within the small to midsized business community, providing outstanding content, fresh opportunities, and innovative ways to push publishing, small business, and entrepreneurship forward. Entrepreneur Media is based in Irvine, CA and New York City. Jonathan Small is an award-winning journalist and digital video producer. He has written features for The New York Times, TV Guide, Glamour and Cosmo. He is CEO of Writing Partner, a consulting and ghostwriting service, and the host of the podcast Write About Now.