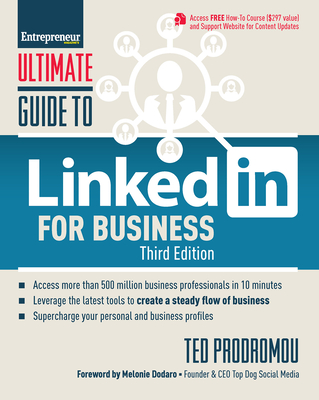 Ultimate Guide to Linkedin for Business
Access More Than 500 Million People in 10 Minutes
Paperback

* Individual store prices may vary.
Description
Whether you're an individual or the head of a company, if you're working, you need a LinkedIn profile.
With more than half a million users across the world, the networking platform has become a necessary tool when it comes to showcasing your expertise, connecting with other business professionals, and telling your company's story. So, are you optimizing your LinkedIn profile? Chances are you're not.
Most LinkedIn books teach the fundamentals of LinkedIn and don't go into much detail. They teach you how to create a basic profile and how to use LinkedIn's tools from the 10,000-foot level, but you don't get into the nitty-gritty details that make you a LinkedIn expert.
Ted Prodromou delivers a step-by-step guide with case studies demonstrating how to use LinkedIn for various outcomes. If you are looking to grow your business, he'll show you how to use LinkedIn to find your perfect clients or customers. If you're looking to hire a new employee, he'll show you how to find your dream employee. You'll learn how to:
Showcase your personal expertise and build your own brand Use company pages to share your story, mission, and vision Connect and engage with other business professionals Leverage LinkedIn so you and your business appear in both LinkedIn's and Google's search results.
Entrepreneur Press, 9781599186405, 282pp.
Publication Date: April 16, 2019
About the Author
Ted Prodromou is a speaker, author, and online advertising consultant, generating leads for his clients using Google AdWords, Facebook ads, LinkedIn, Twitter, and other social media platforms. He also teaches online and in-person classes on LinkedIn, Twitter, and online advertising. In his past life, Ted worked for high tech companies IBM, DEC, and Cellular One before starting his own consulting firm in 1999. You can learn more about Ted at tedprodromou.com.