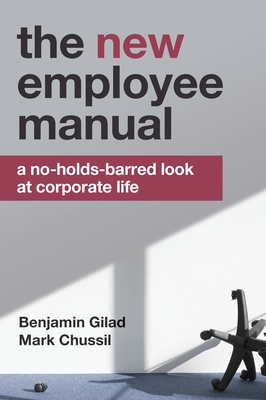 The New Employee Manual
A No-Holds-Barred Look at Corporate Life
Paperback

* Individual store prices may vary.
Other Editions of This Title:
MP3 CD (4/9/2019)
Compact Disc (4/9/2019)
Description
Welcome to Corporate Life.
The NEW Employee Manual is not your Dad's or Mom's employee manual. It's the new playbook for corporate survival, fitting today's realities and the challenges facing employees who join or work in large, seemingly successful companies. Those companies already issued very specific and detailed employee manuals covering everything under the sun except how to compete well in our brave new world.
The NEW Employee Manual
will help you navigate the Corporate (with a capital C) labyrinth. Where Corporate's manual shapes you into a dutiful cog for the good of the machine, ours helps you enhance your career for the good of, well, you ... and your company.
The NEW Employee Manual
should make you feel skeptical: skeptical of empty slogans, obsolete rituals, obsessive pursuits, and bigwigs' playbooks that no longer work. That alone should be worth this book's price. Skepticism, you see, is a good thing, because it is only the skeptic, only the free-thinker, only the maverick, who asks new questions and finds useful answers. So, are you a maverick or a cog?
Entrepreneur Press, 9781599186429, 368pp.
Publication Date: March 19, 2019
About the Author
Dr. Ben Gilad, president of Fuld-Gilad-Herring Academy of Competitive Intelligence (CI) is considered a leading developer of competitive intelligence theory and practice in the US, is a former Associate Professor of Strategy at Rutgers University's School of Management. Gilad's first CI books, The Business Intelligence System (1988, AMACOM, co-authored) and Business Blindspots (1994, US: Probus/Irwin; 1998, UK: Infonortics, e-edition, 2012, ACI, Inc.), paved the way for the CI evolution in US corporations, many of which emulated the basic principles of Gilad's CI process model. He is the co-editor of the definitive analysis book, The Art and Science of Business Intelligence Analysis (1996, JAI Press), author of Early Warning (Amacom, 2004), and Business War Games (Career press, 2009). Mark Chussil is Founder of Advanced Competitive Strategies, Inc. He's a pioneer in business war gaming, an expert in business-strategy simulation, a prolific author of essays on competitive strategy on ACS' website, Competing.com, and Harvard Business Review, and a thought-provoking teacher of strategic thinking. He's helped Fortune 500 companies, in many industries and countries, add billions of dollars to their bottom lines. Mark is also an Adjunct Instructor in the Pamplin School of Business at the University of Portland.