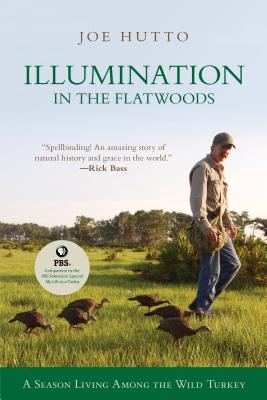 Illumination in the Flatwoods: A Season with the Wild Turkey (Paperback)
A Season with the Wild Turkey
Lyons Press, 9781599211978, 240pp.
Publication Date: December 1, 2006
Description
An unforgettable story about the fascinating behavior of the most elusive of wild game birds.
About the Author
Joe Hutto is a nationally recognized naturalist and wildlife artist. He is currently living with and studying a herd of mule deer in the Wind River Mountains. His last study of a wild sheep herd culminated in the book A Light in High Places. He and his wife, Leslye, own and operate a small, historic working ranch.
Praise For Illumination in the Flatwoods: A Season with the Wild Turkey…
"Hutto beautifully chronicles an audacious, inventive experiment in ethology. It is an extraordinary tale of man-animal interaction related with bemusement, wonder, and, ultimately, reverence for the complexity of nature."
—Kirkus Reviews
 "Joe Hutto has with empathy and patience entered the wild turkey's world like no one before. His insight is a revelation and his writing a delight."
—George B. Schaller
"Beautifully written and observed, Illumination in the Flatwoods is a work of art worthy of its subjects. The book takes us to a place we might never have even dreamed and gives our minds the courage to believe things our hearts have always known."
—Rick Bass
"This book is all about turkeys, and yet you will come away from it thinking not about poults and jakes but about the overlap of art and science, the difference between love and sentiment, and what fine creatures humans can be when they are at their best."
—Bailey White
"Hutto's book will join Gavin Maxell's Ring of Bright Water and Joy Adamson's Born Free as a classic work of natural history and human-animal interaction. . . . Hutto's prose flows with lyrical beauty, carried on the respect and deep love he holds for his charges."
—Bird Watcher's Digest
Advertisement