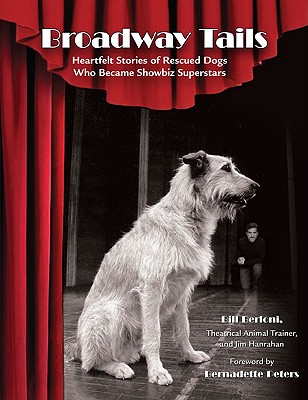 Broadway Tails: Heartfelt Stories of Rescued Dogs Who Became Showbiz Superstars (Paperback)
Heartfelt Stories of Rescued Dogs Who Became Showbiz Superstars
Lyons Press, 9781599213538, 228pp.
Publication Date: June 1, 2008
* Individual store prices may vary.
or
Not Currently Available for Direct Purchase
Description
Bill Berloni was a nineteen-year-old theater apprentice when he was offered his big break: the chance to act professionally if he could find and train a dog to appear in the original production of the Broadway hit Annie. Defying the odds, Bill rescued a dog from a local shelter and, together, they redefined what animal performers could do.
In Broadway Tails, Bill tells the true stories of "throw-away" animals who came back to co-star with some of entertainment's biggest names, from Richard Burton to Sarah Jessica Parker. Here you'll meet:
The original Sandy, who starred for seven years in Annie
"St. Vito," the deaf bull terrier, who saved the show
Pi, the first dog to dance with the New York City Ballet
Chico, the Chihuahua with attitude who became the face of one of Broadway's newest hits
Often funny, and always touching, these and other stories demonstrate the extraordinary things rescued animals can do.

About the Author
Bill Berloni has provided animals trained to meet the demands of live performances--from Broadway to ballet--as well as film, television, and commercial work for more than thirty years. His pioneering humane training techniques have won multiple awards. Bill is widely recognized as an expert in animal behavior and for his dedication to rescue work. In addition to his work as a trainer, Bill is currently behavior consultant to the Humane Society of New York. He has a BFA in theatre, and is an actor and a published author ("Sandy: Autobiography of a Star," "Doga"). Jim Hanrahan is a writer and Bill Berloni's brother-in-law. He lives in Connecticut with his wife, daughter, and a house full of animals.
Praise For Broadway Tails: Heartfelt Stories of Rescued Dogs Who Became Showbiz Superstars…
"[Bill] can do anything you ask, has enormous love for and control of the animals, is kind to them and to humans. He is the best. The one and only." --Mike Nichols 
"Bill Berloni is a master of his profession. His experience and patience are welcome in any rehearsal room." --Susan Stroman
"Bill's genuine love and respect for animals has always been foremost in my thoughts of him. He is guided by compassion, empathy and kindness for all beings, qualities too rarely seen." -Virginia Chipurnoi, President, Humane Society of New York
Animal stage trainer Berloni has been rescuing animals and putting them on the boards for more than 30 years, and his career memoir brings with it some expected charms—lovable, heartbreaking animal stories; giddy tales of Broadway success; and showbiz backbiting. His story begins compellingly when, as a 19-year-old intern on the set of the original 1975 production of
Annie
, he was charged with finding and coaching the dog that would play Sandy; miraculously, "[t]he dog nobody wanted... that had been run over by a truck just twelve days earlier" played Sandy for seven years. Berloni's at his best when describing his methods or recounting theatre gossip; the chapter about the 1995
Annie
revival, and the abrupt dismissal of 11-year-old star Joanna Pacitti (who won a contest), is related with real ire (Berloni was friends with Pacitti and her family). Unfortunately, much else is dully dutiful; neither Berloni nor his co-writer Hanrahan bring a particularly strong voice to the typical business of memoir. Since it focuses on his remarkable craft, it should interest animal lovers and fans of Broadway. --
Publishers Weekly
"A heartwarming book . . . If you've encountered a furry friend in a Broadway show it likely was put there by Bill Berloni, the theater industry's top animal trainer. . . . It's Wild Kingdom meets 42nd Street—and a fun read for anyone who loves theater or animals (and especially those who love both). . . . A canine critique would insist it's 'four paws up' for Broadway Tails."
—Houston Chronicle  "[A] treat for animal lovers and theater fiends—if you are both (as I am), it cannot be beat. Backstage theatre gossip abounds. . . . You'll hold your breath as Berloni rescues animals from some despicable situations, and then brings out the best in them despite serous obstacles."
—Fetchdog.com
Advertisement