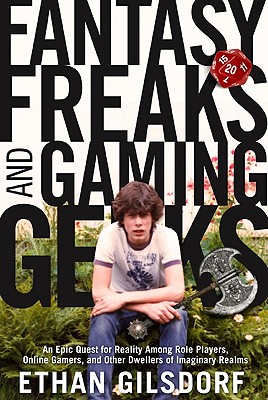 Fantasy Freaks and Gaming Geeks (Hardcover)
An Epic Quest for Reality Among Role Players, Online Gamers, and Other Dwellers of Imaginary Re
Lyons Press, 9781599214801, 336pp.
Publication Date: September 1, 2009
* Individual store prices may vary.
Description
What could one man find if he embarked on a journey through fantasy world after fantasy world?
In an enthralling blend of travelogue, pop culture analysis, and memoir, forty-year-old former D&D addict Ethan Gilsdorf crisscrosses America, the world, and other worlds—from Boston to New Zealand, and Planet Earth to the realm of Aggramar.
About the Author
Ethan Gilsdorf is a journalist, poet, critic, editor, and teacher whose writings have appeared in the "New York Times, Boston Globe, Los Angeles Times, San Francisco Chronicle, Washington Post," "USA Today," and "National Geographic Traveler." He has been a guest on talk radio as a fantasy and escapism expert.
Praise For Fantasy Freaks and Gaming Geeks: An Epic Quest for Reality Among Role Players, Online Gamers, and Other Dwellers of Imaginary Re…
Named a "Must Read Book" by the Massachusetts Book Awards from Kirkus Reviews, "Big Book Fall Preview":
"In the late '70s, playing fantasy role-playing games like Dungeons & Dragons put [Ethan Gilsdorf] on equal social footing as the AV club. Thirty years later, though, fantasy films rule the box office, J.R.R. Tolkien is considered essential reading and games like World of Warcraft are pop-culture phenomena…. But there are still pockets of fantasy culture—Lord of the Rings conventions, Society for Creative Anachronism battles, LARP (Live Action Role Playing) camps—that the casual fantasy nerd wouldn't even dare to tread…. 'I wanted to know why a 40-year-old man is still so interested in this stuff that he'd dress up in armor on the weekends,' [Gilsdorf] says. The author traveled from the woods of South Carolina to libraries in Wisconsin, from battlefields in Pennsylvania to the mountains of New Zealand—all in the quest to find some answers. His conclusion? They get to the heart of why any of us, geeks or not, become involved with any group. 'It's all about a sense of belonging,' says Gilsdorf. And maybe a bit about killing stuff."
"This is a delightful book—more fun than being a Dungeon Master to a group of high-level mages and thieves." —A.J. Jacobs, New York Times best-selling author of The Know-It-All and The Year of Living Biblically
"Witty, downright funny, poignant, honest and ... well, wistful. Anyone who has ever embraced 'escapism' will understand, and those who haven't taken that leap of imagination will want to after reading Fantasy Freaks and Gaming Geeks…. Reading Ethan Gilsdorf's tale conjured my own D&D and fantasy experiences, vividly, right down to finding some of my old character sheets in a 3-ring binder a decade and more after I had stopped using them." –R.A. Salvatore, New York Times best-selling author of The Dark Elf Trilogy, and lead storyteller of 38 Studios game company  
"A fun, quirky and fresh perspective for those wanting to know more about the amazing world of gaming." –David Brin, futurist and Nebula, Hugo, and Locus Award-winning author of The Postman and Startide Rising      
"Ethan Gilsdorf's quest for himself leads through the fantasy world of millions of gamers in a breathless adventure/quest/memoir that is uniquely contemporary. This is at once a primer on the world of gaming, a self-help manual, and a wistful meditation on the passing of real time in a (nearly) virtual world."
–Andrei Codrescu, NPR commentator and author of
The Posthuman Dada Guide
 "An Orcs-and-all journey through geekdom, told with affection for every elf, wizard and dungeon master it meets along the way.
Fantasy Freaks and Gaming Geeks
is for anyone who's ever been lured by the enchantment and secrets of faraway fantasy worlds; meticulously researched and lovingly told, the book gives a personal face to the cloak-swishing, wand-wielding, lightsaber-rattling gamer in us all." —Melissa Anelli, author
of Harry, A History: The True Story of a Boy Wizard, His Fans, and Life Inside the Harry Potter Phenomenon
"Vivid, moving, evocative, intriguing, engaging." –Chris Castellani, author of A Kiss from Maddalena and The Saint of Lost Things
"Forget Frodo; Ethan Gilsdorf guides readers through fantasy lands far more enchanting than anything you'll find in Tolkien's books.  Donning his cloak of invisibility, he takes readers along on a mind-blowing tour of nerd universes—from a knighting ceremony in a Pennsylvania park to vampire slayers in a Marriot Hotel.  The result is a compassionate, humorous and magical trip that makes reality seem like a poor substitute for the realms of imagination." —Pagan Kennedy, author of New York Times Notable Book Black Livingstone and The First Man-Made Man
 "Ethan Gilsdorf takes us on a vivid, funny, poignant trek through geekdom . . . and somehow, before we've caught on to his tricks, he makes a genuinely important contribution to understanding fantasy, pop culture and their roles in our emotional and cultural lives. Fantasy Freaks and Gaming Geeks is entirely worthy of that fantasy Pulitzer Prize the author's been coveting." –Gerard Jones, author of Killing Monsters: Why Children Need Fantasy, Super Heroes, and Make-Believe Violence and Men of Tomorrow: Geeks, Gangsters, and the Birth of the Comic Book
"This book—part memoir and part insider's guide—is both poignant and hilarious, baffling and informative, disturbing and entertaining.  It is a must read for anyone whose idea of a good night involves dragons, spaceships, or one-eyed monsters dripping with slime."—Jake Halpern, NPR Commentator and author of Fame Junkies
"With the authority of an initiate and the curiosity of the seeker Ethan Gilsdorf leads us through the world of role-playing games that — for both better and worse — provided the arena for his coming-of-age. Part memoir, part travelogue, part investigative report, Fantasy Freaks and Gaming Geeks is a compelling exploration of a moment in our cultural history. What you learn about the games and the players is considerable, but stands as nothing compared to what you learn about the human heart." 
–Richard Hoffman, author of Half the House: A Memoir
"After his mother's brain injury Ethan Gilsdorf saved his childhood through the Dungeons and Dragons game. Now Gilsdorf sets out on a quest to revisit his childhood and to explore the expansive post-Tolkien landscape in this fascinating travelogue. Potter Rock in Harvard Square, Bilbo Baggins in New Zealand, and much more." –Doug Whynott, author of Giant Bluefin and A Country Practice
"Ethan Gilsdorf's Fantasy Freaks and Gaming Geeks is alternately hilarious, surprising, poignant, and odd, but always utterly compelling.  Beginning with his own teenage geekdom and addiction to Dungeons & Dragons, Gilsdorf transports us to the fantastical worlds of live-action role playing, Harry Potter tribute bands, creative anachronism, and Lord of the Rings tourism, reminding us that these substitute realities are not just amusements, but at times, life-savers.  A must-read book for trolls, orcs, hobbits, or anyone interested in the quirky corners of popular culture." –Dinty W. Moore, author of The Accidental Buddhist and Between Panic and Desire
 "Ethan Gilsdorf is a poet and explorer, a gentle soul with a spirit for adventure. He is a deft storyteller, too, and here he leads us into realms real and imagined, personal and universal. It is a moving journey for fantasy freaks and gaming geeks, and for anyone curious to wander into their world." –Tom Haines, award-winning travel writer, Boston Globe
"This is at once an affecting memoir, a thorough survey of the subculture of fantasy gaming, and an immersion journalist's journey into strangeness.  It's also a wincingly honest self-portrait of a man who reaches forty and resolves to confront the role-playing escapist adolescent hidden not so very deep within him." –Carlo Rotella, author of Cut Time: An Education at the Fights
"If you think fantasy culture is just a bunch of pimply-faced kids shouting about dragons in a finished basement, you haven't been paying attention. From wizard rock to chic French geeks, Gilsdorf catches you up on everything you need to know about the modern state of make-believe. And he does it with such humor, honesty, and, yes, cool, you'll almost wish you had an orc-slaying, princess-saving past of your own to suppress." –Yael Goldstein Love, author of Overture: A Novel and The Passion of Tasha Darsky
"Intensely personal yet universally appealing, Gilsdorf's work speaks to the geek in all of us. Fantasy Freaks and Gaming Geeks, with its exploration of an emerging marginalized culture, rolls a natural 20." –Larry D. Curtis, TheOneRing.net
 "Unfortunately for the establishment, the geeks—like Frodo and Sam slipping into Mordor quietly and unobserved by the Dark Tower—have come out of the quiet and peace of the Shire, or the gaming dungeon, and merrily taken over a large portion of the world, as illustrated by this book…. Ethan Gilsdorf looks critically at gaming and fantasy and finds out how wonderful they can be for bringing people together across wage, ability, and ethnic divides, or from disparate places around the world, for developing imagination and creativity, and all in the name of fun! Cogito Ergo Geek." —Ian Collier, The Tolkien Society
"Fantasy Freaks and Gaming Geeks is a lively exploration of the fantasy realms into which boys and grown men retreat. Moms of teenage boys will find new insights about what makes these worlds so compelling as well as some encouraging stories about the friendships and communities they foster." –Michelle Seaton, co-author of The Ways of Boys
 "For every adult hiding his D&D books like they were Playboy magazines, behold Mr. Gilsdorf as he undertakes his Greatest Adventure, one that any geek will envy. Gilsdorf takes a Kerouac meets Cliffs Notes approach and gives us On the Road for the Star Wars generation, sharing his impressions while allowing the people he meets to share theirs.... Chapter after chapter, the author puts the geek psyche on the dissection table, and tries to get to the root of our escapist society. It's fascinating to watch him peel back each layer, and wildly entertaining to cavort with the motley cast of outcast characters he digs up. In his more introspective moments Gilsdorf remembers his own troubled youth, and a love/hate relationship with his own geekhood. It's a self branding that seems all too familiar, as we all have difficulty with who we are....Too many of us will find this book hitting joyously close to home. Call it 'Confessions of a Closet Geek.'" –Juan Carlos Piñeiro Escoriaza and Victor Piñeiro, creators of the award-winning documentary Second Skin 
or
Not Currently Available for Direct Purchase