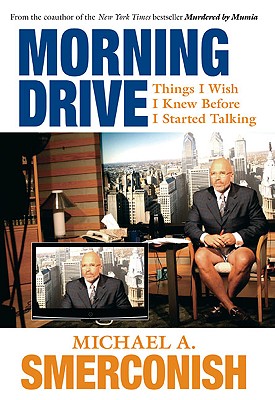 Morning Drive (Hardcover)
Things I Wish I Knew Before I Started Talking
Lyons Press, 9781599215174, 300pp.
Publication Date: April 1, 2009
* Individual store prices may vary.
Description
Michael Smerconish--attorney-turned-political-pundit, radio talk show host, columnist, author and all-around lightning rod of controversy and spirited discussion--is back In" Morning Drive," he displays the same no-nonsense candor he did in the best-selling "Murdered by Mumia, "covering the gamut of his trademark straight talk on hot-button issues on the minds of Americans today, from stem-cell research and balancing budgets, to immigration and what he calls the "non-hunt" for Osama bin Laden. Taking the news headlines of today to set forth an agenda for tomorrow, Smerconish argues that the TV world presents an unrealistic, "liberal or conservative" view of the world. Maybe that explains why the man often labeled "conservative" by the television shows he appears on sees no contradiction in his kind words for Barack Obama. In this new book, Smerconish takes readers to such volatile venues as the set of "Real Time with Bill Maher," where he found himself under attack in the "conservative hot seat," and recounts being the first person selected to guest host Don Imus's TV show after Imus was fired from MSNBC. Smerconish voices a slew of strident opinions in "Morning Drive"--all based on his discussions with those-in-the-know and on personal experience. His support for torturing suspected terrorists is one he debated with John McCain, and his libertarian view of same-sex relationships derives partly from his conversation with former New Jersey governor James McGreevy. Such impressions--including those Smerconish garnered on his "morning drive" radio talk show based in a swing state (Pennsylvania) during the 2008 presidential election--come together in a fascinating, behind-the-scenes look at how media-driven political perception becomes reality. "Morning Drive" is a rollicking, political coming-of-age by one of the rising stars of cable punditry. Michael Smerconish on ... Torture: Once we identify the bad guys, we have to get from them the info on impending attacks by any means necessary, and that includes torture. If you believe it NOT to be efficacious, tell me why our best interrogators continually seek to use it as a technique? Answer: It works. Guns: A symptom, not a cause. Single-parent households pose more of a threat to safety than firearms. Let's address that issue. Gay marriage: Homosexuals don't threaten my marriage. As we seek to find some accommodation for same-sex couples, we need to end that false argument. Embryonic stem-cell research: Pardon my callous nature, but that which exists in a petri dish is undeserving of the full rights afforded to a viable fetus. Global warming: Beats the hell out of me. But given the apparent stakes if the concerns are valid, err on the side of caution.
or
Not Currently Available for Direct Purchase