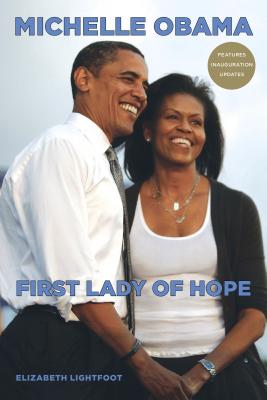 Michelle Obama (Paperback)
First Lady of Hope
Lyons Press, 9781599215211, 210pp.
Publication Date: November 1, 2008
Other Editions of This Title:
Paperback (11/1/2018)
* Individual store prices may vary.
Description
There is no one quite like her. Michelle Obama. This is the first book to tell the astonishing story of a woman whose intellect, verbal flair, and poise are certain to make her one of the most influential First Ladies in history. A woman whose remark, "For the first time in my adult life I am really proud of my country," did her husband's campaign no good. A woman whose impassioned speech to the Democratic National Convention may have helped win him the Oval Office. A woman touted as a future presidential candidate herself. Readers are given a revealing and intimate look at Michelle Obama's remarkable life--from her Chicago childhood to her education at Princeton and Harvard, from how she first met Barack Obama at the prestigious law firm where they were the only African-Americans, to her role as his closest adviser, and to her own political beliefs. For Michelle, family comes first, and--like so many women who struggle between family and career--she seriously weighed her husband's presidential ambitions before giving her stamp of approval. Apparently she struck a hard bargain: he had to give up smoking.
About the Author
Elizabeth Lightfoot is a freelance writer and editor who previously held jobs at The Associated Press as well as at weekly and daily newspapers in the northeast. She also works part-time overseeing publications for the school her children attend, allowing her to attempt to strike that elusive balance between career and motherhood, a challenge Michelle Obama spoke so much about during the campaign trail. A contemporary of the future First Lady, Liz is a 1985 graduate of Harvard College, where she received a degree cum laude in English and American Literature. After college, she worked at The American University in Cairo, Egypt, where she also wrote free-lance articles for an English language magazine, Cairo Today. It was that experience that led her to pursue a career in journalism. After a year working for a New Hampshire daily newspaper, she enrolled at Columbia University's Graduate School of Journalism, where she received a Masters degree in 1988. She spent two years at The Associated Press, eventually leaving to free lance so she could spend more time with her growing family. As a freelancer, Liz's work has appeared in publications ranging from Vanity Fair (a book review) to The New York Times (features in the Connecticut section). For a time, she wrote regular columns for her local daily newspaper, The New London Day, focusing primarily on life as a mother with young children. She has also written extensively for businesses and philanthropic institutions. An internship at a local radio station led to an Associated Press Award for best feature story. She has edited publications for various institutions, including the United Nations.Liz is also a dedicated volunteer, having served on various boards and/or committees to support causes she believes in, including education, the arts, the environment, and affordable housing.Like the future First Lady, Liz considers her first job to be "Mom." She is the proud mother of two sons and two daughters, ranging in age from 10 to 17. She, her husband, and children live in a converted barn in Lyme, Connecticut. The barn is as much of a job as her family and other work combined. But that's another story.
or
Not Currently Available for Direct Purchase