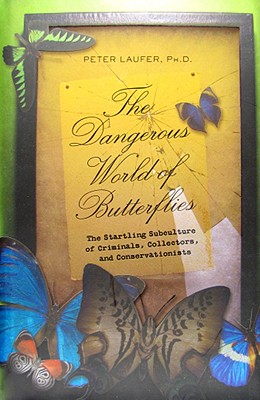 The Dangerous World of Butterflies (Hardcover)
The Startling Subculture of Criminals, Collectors, and Conservationists
Lyons Press, 9781599215556, 288pp.
Publication Date: May 1, 2009
* Individual store prices may vary.
Description
This work chronicles Laufer's visit to a butterfly preserve in Nicaragua, in which he stumbled into a theater of intrigue full of strange and nefarious characters--all in pursuit of one of nature's most delicate creatures.
About the Author
Peter Laufer, P.h.D., is the author of more than a dozen books that deal with social and political issues, including "Mission Rejected: U.S. Soldiers Who Say No to Iraq," "Wetback Nation: The Case for Opening the Mexican-American Border," and "Iron Curtain Rising: A Personal Journey through the Changing Landscape of Eastern Europe." He is the coanchor of The "Peter Laufer Show" on radio station Green 960 in San Francisco. More about his books, documentary films, and broadcasts, which have won the George Polk, Robert F. Kennedy, Edward R. Murrow, and other awards, can be found at peterlaufer.com.
Praise For The Dangerous World of Butterflies: The Startling Subculture of Criminals, Collectors, and Conservationists…
"[A] compelling, all-angles examination. . . . Laufer delivers an absorbing science lesson for fans of the colorful bugs." --Publishers Weekly "Recommended for scientists and lay readers who enjoyed Susan Orlean's The Orchid Thief." —Library Journal "Like The Orchid Thief, The Dangerous World of Butterflies takes us deep into the dark heart of obsessed collectors and the passionate activism of people working to repopulate species like the Palos Verdes blue. Worlds within worlds: Laufer, a veteran reporter on cultural and political borders, understands how these worlds cross and collide. His book is a Venn diagram of the beautiful and bizarre." --Los Angeles Times "[Laufer's] book is charming and his attention to detail, combined with a real gift for describing these fascinating characters -- like calling entomologist Arthur Shapiro "an endless litany of intriguing butterfly stories" -- made me want to read everything else he has written." --Andrew Ervin, Washington Post "...Laufer's The Dangerous World of Butterflies packs real entertainment wallop in a book filled with informed tidbits custom-designed for cocktail hour." --P. Joseph Potocki, The Bohemian "A charming . . . meditation on butterflies and the people who love them." --Kirkus "The Dangerous World of Butterflies: the Startling Subculture of Criminals, Collectors, and Conservationists by Peter Laufer is an eye-opening peek into the world of butterfly collecting. From true crime to heated debates between butterfly conservationists and butterfly farmers, this book reads like a novel." --Pittsburgh Post-Gazette "Like The Orchid Thief, a book that exposed many unexpected aspects connected to another of nature's beautiful gifts, The Dangerous World of Butterflies is an entertaining, enlightening read." --Seattle Times "Laufer weaves his tale with a genial flair. . . . The journey with Laufer is one well worth taking." --Audubon "From the natural history and ecology of the butterfly to the very real threat of butterfly extinction, the world of museum collections, and more, this social, political and natural history is a key acquisition for both general lending libraries and those interested in science issues." --Midwest Book Review
 
or
Not Currently Available for Direct Purchase